Jaquet Droz just announce that The Perpetual Calendar Éclipse arrives in stores. The Perpetual Calendar Éclipse by Jaquet Droz presents a spectacular new moon phase display in two models with a resolutely modern design.
On the black or ivory-colored Grand Feu enamel dial, two straight hands contrast sharply with the curves of two wavy hands, tipped with a crescent moon. The calendar information is easily read on several places on the dial: on the right is the current date, on the left is the day of the week. At 12 o'clock, a single-hand counter indicates the month with the leap year appearing discreetly in a small window. At 6 o'clock, a black or ivory-colored onyx index moves across the face of a golden moon, revealing, and then concealing it until its total eclipse. The whole spectacle unfolds on a night sky boasting eight stars, the watchmaker's favorite number.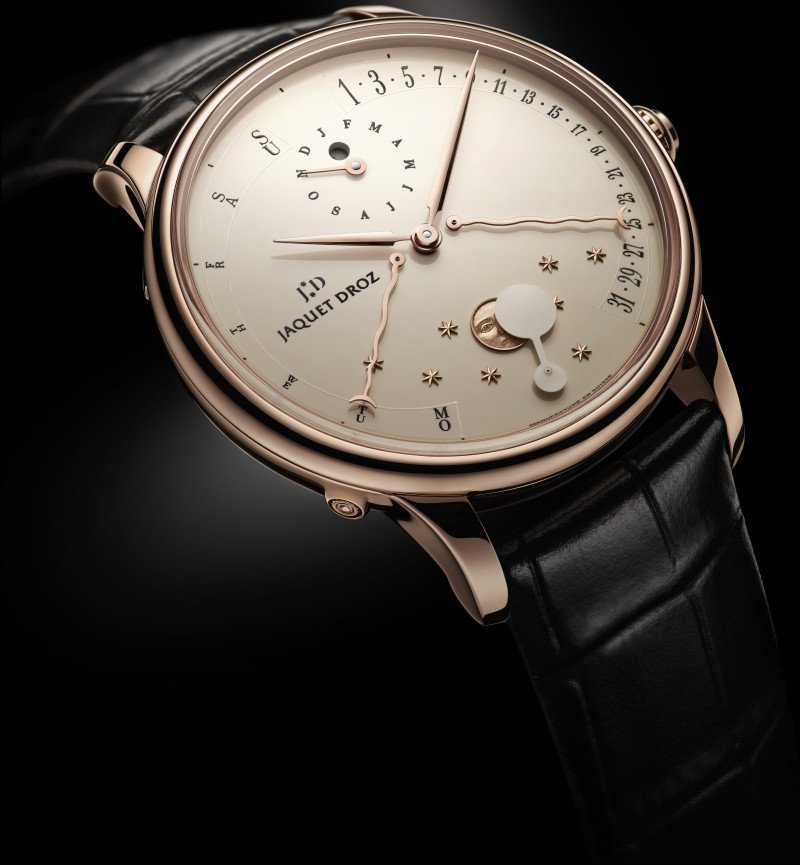 The Jaquet Droz Perpetual Calendar Éclipse captivates and surprises with its innovative design and contemporary calendar display. The brilliant sparkle of the red gold hands, moon and stars creates a perfectly balanced contrast to the eternal solemnity of the dial in this exceptional timepiece worn by a black leather strap.