Looking more like a charming fortress rather than just another hotel, Ekies All Senses is perched precariously atop a rock kissing the edge of the Vourvourou Bay in Sithonia in Greece. At first glance, it's also more like a dreamlike castle by the sea, fortified and unconquerable. One can almost be disappointed upon learning it is actually a modern-day hotel. Behind the hotel is the magnificent Mount Athos, dominating the skyline. The crystal clear blue waters of the Vourvourou Bay in the front, the Ekies All Senses in the middle and the green pine mountain behind, one is almost guaranteed a stay soaked in nature while enjoying modern conveniences.
[button link="https://www.hotelscombined.com/Hotel/Ekies_All_Senses_Resort.htm?a_aid=63056″ color="red" newwindow="yes" rel="nofollow"] Click here to Book Now![/button]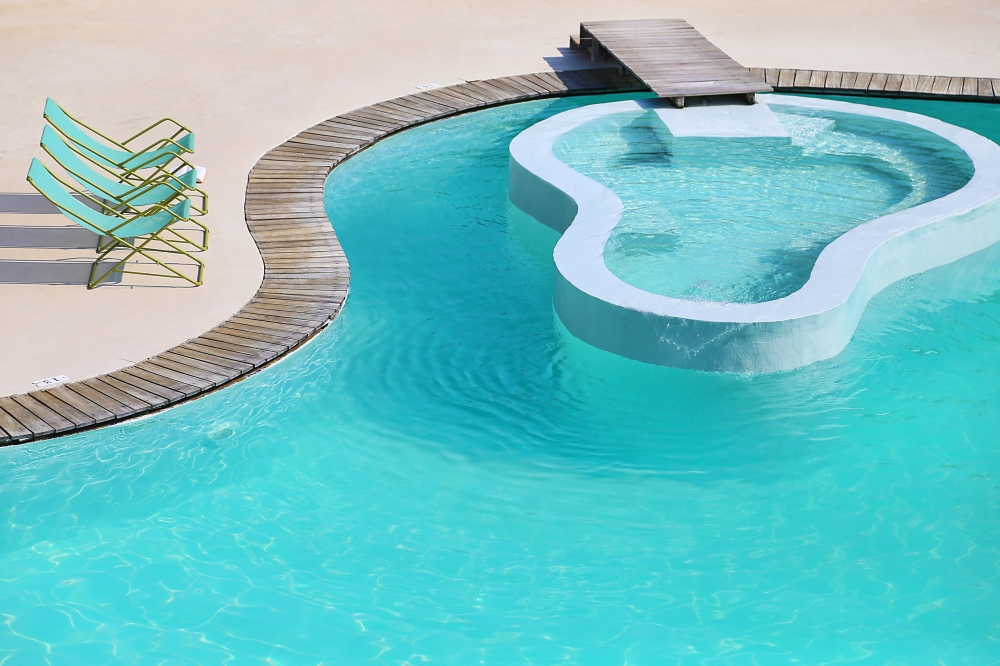 Ekies All Senses is only three steps away from the sea, an almost enviable situation. Sea lovers and beachcombers will definitely be drawn to this hotel. Kissing the Vourvourou Bay on the untouched beach in Sithonia (one of the three peninsulas of Halkidiki), the Resort is blessed with rocky islands, caves, crystal waters, sandy beaches, and pine tree forests all around. Ekies All Senses Resort is truly an excellent getaway for those seeking to immerse themselves fully in nature.
Designed by its owner Alexandra Efstathiadou, Ekies All Senses was once a hotel in tatters. But rescued and restored with careful planning and collaboration, Ekies All Senses now showcases Greek architecture blending with natural surroundings, colors, and designs. Every room promises to be a home away from home. A family-owned hotel, it is only natural to have a homey feel. Each room has been painstakingly restored with nature and eco-tourism carefully considered. Eco-friendly materials were used throughout the property, from non-toxic paints through the use of ecological Coco-mat mattresses and minimal waste program implemented across the resort. Not only will guests enjoy a relaxing stay, they know they are staying in a hotel that is authentically environmentally friendly.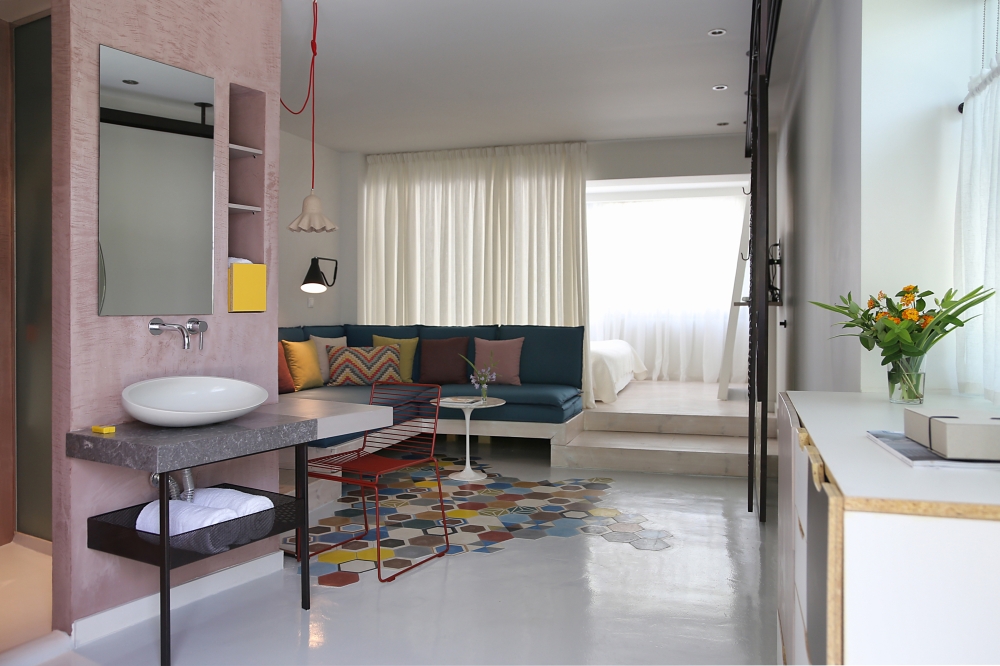 Rooms vary in size and design. They come in Standard Double, Superior Double, Junior Suite, Cabanas Suite, Large Suite, Penthouse Suite, Family Suite, Pine Suite and Evergreen Suite. The Standard Double features up to 25m². It may sound small, but it does have a queen size Coco-Mat bed and a soft pillow menu to choose from. It is equipped with flat screen TV, a DVD player, and free Wi-Fi to keep everyone busy. As the name suggests, the Standard Double fits two people comfortably. For those needing more space, a Superior Double might do featuring an added sofa bed in its 32m² space. The sofa bed or lounge area can be the perfect hideout for your child.
Married couples with a child looking for a little more space would do well by booking a Junior Suite. It has a Coco-Mat spacious bed at 180 to 200 cm. With a bigger space of up to 45m², the Junior Suite is perfect for three adults (or two adults plus one child and one infant). The lounge area featuring contemporary design provides uninterrupted relaxation after being out on the beach or up the mountains. The Cabanas Suites are more endearing for their unique design and ambience. A Cabana Suite features up to 55 sq.m and can easily accommodate up to 3 adults. With a versatile setup and design, the Cabanas Suite has enough space for a bedroom or a lounge area or dining area. All made available for guests to relax in and/or luxuriate in the company of their friends or loved ones.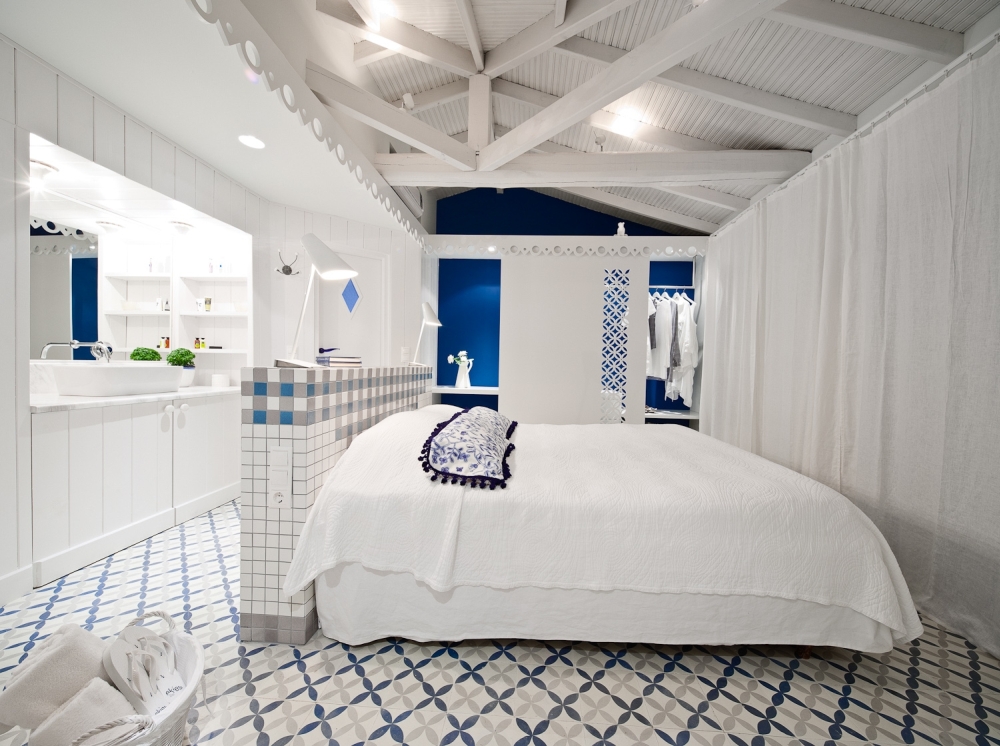 For those who like to go big, the Large Suite will not disappoint. Boasting up to 70 m² space, the Suites offer a spacious open-plan area for guests to enjoy. The Jacuzzi is big enough to accommodate up to four adults for a unique experience. Some of the Large Suites are also equipped with an outdoor Jacuzzi so be sure to book one. All on its own is the one and only Penthouse. As can be expected it is a lot more spacious at 75 m² and offers sweeping views of the bay, the rock islands, and Mount Athos. It also has a balcony for a memorable breakfast, cocktail or al fresco dinner. It also features an outdoor Jacuzzi, perfect for bathing while soaking in the magnificent view.
Big groups like families will be delighted to know that there are Family Suites. With suites as large as 90m2, families are sure to enjoy a vacation in an intimate but not cramped setting. It has two living rooms and two bathrooms with showers. But for those who truly want to become one with nature while surrounded by nature, the Pine Suites are the best option. It takes its design from the surrounding rich, verdant forest. The Pine Suites are eco-luxury apartments using natural, raw materials that were locally sourced. The Pine suites have a spacious open plan area, a private garden and pool, hammocks and a direct link to the nearby forest. Garden or forest views can be readily enjoyed from these Suites.
With its dreamlike atmosphere, cozy rooms and suites, ideal setup and location only 110km from Thessaloniki Airport (SKG), Ekies All Senses Resort is poised to be an idyllic and romantic getaway. Strategically situated in Thessaloniki known as the oldest and most multi-ethnic city in Europe, guests are sure to enjoy a relaxing, nature-filled stay soaked in Greek and many other cultures and histories. It's like traveling to a number of destinations while staying grounded in one place. Only at Ekies All Senses Resort, the resort by the sea.