Lamborghini will unveil the new Gallardo LP 570-4 Squadra Corse at the 2013 Frankfurt Motor Show (14 September – 22 September 2013). What is so special with this new model of Lamborghini? It is very close to the race cars: the same V10 engine (no modifications!), the same rear wing for greater aerodynamic load and even the removable engine hood with quick-release system. A dream come true for many racing fans…
When you talk about racing cars you'll think to speed. Gallardo LP 570-4 Squadra Corse sprints from 0 to 100 km/h in a mere 3.4 seconds and reaches 200 km/h in just 10.4 seconds. Its forward thrust finally tops out at 320 Km/h. Stopping power is guaranteed by the production-standard carbon-ceramic brake system.
The Squadra Corse is available in Giallo Midas (yellow), Bianco Monocerus (white), Grigio Thalasso (grey) and in Rosso Mars (red). The exterior look of the Gallardo Squadra Corse is perfectly accented with a matte black finish on the large rear wing with contrasts in body color. The hood, front air intakes, rear diffuser and 19-inch forged wheels are painted in high-gloss black, while the mighty brakes callipers are available in red, black or yellow.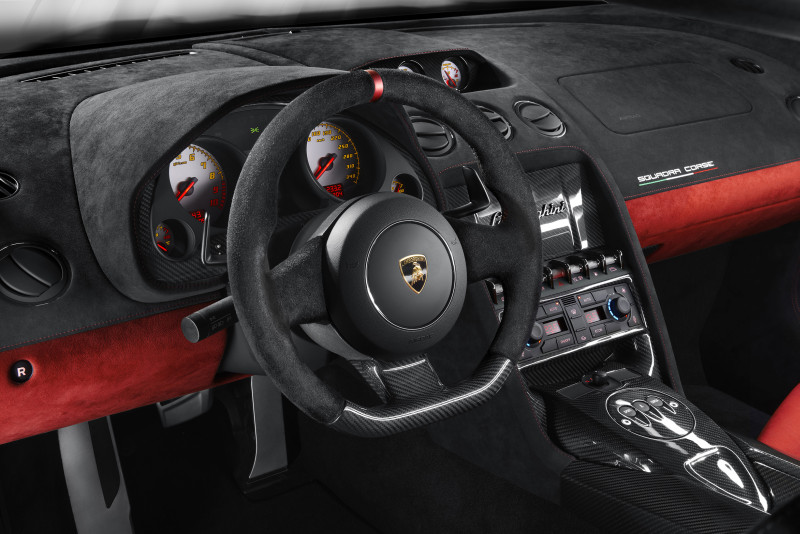 Lamborghini didn't comment about price of Gallardo LP 570-4 Squadra Corse.