2014 update: This year Marble Beach has no beach bar or sunbeds. It is more like a wild beach.
Thassos (Thasos) is the northernmost Greek island. It is not an expensive place to visit but you can find luxury resorts on Thassos Island. Also, your efforts will be rewarded with breathtaking mountain scenery and beautiful beaches.
One of them, the unique Marble Beach of Thassos, is amazing because white sand and white marble pebbles.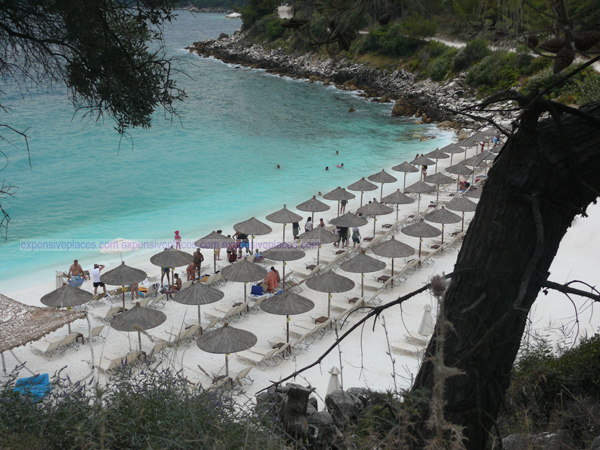 The local name of Marble Beach is Saliara Beach and few years ago it was a wild beach. Moreover, it was like a secret of Thassos to preserve its beauty. Now, it is ready to welcome visitors and we was there to see this wonder of Thassos.
You cannot find a proper Marble Beach Thassos map and even the Marble Beach location is hard to find… The last 3KM road to the beach looks like an ancient road and our car complain about road conditions each minute of the trip… The good side is that when we finally arrive to the Marble Beach we magically forgot about road or other problems… The marble all over the beach and the water has a unique white-blue color. It is breathtaking.
Anyway, I can show you the Marble Beach location on google maps. Print it and use it…
Marble Beach review conclusions
The good: Impressive beach with amazing view, clear water and unique sand.
Nice decorations on the beach.
You can drink a coffee or a coke in a fancy beach bar
The bad: Bad road to the beach, no restaurants, shops or hotels near·by.
The bottom line: If you plan a trip to Thassos you should visit Marble Beach for a morning.