Black is the new … black. Read Mercy Hotel Lisbon Review and you find interesting facts about it! We feel very good at Mercy Hotel and I was pleasantly surprised by the gestures such as: welcome cocktail, delicious biscuits, tiny bottle of local wine…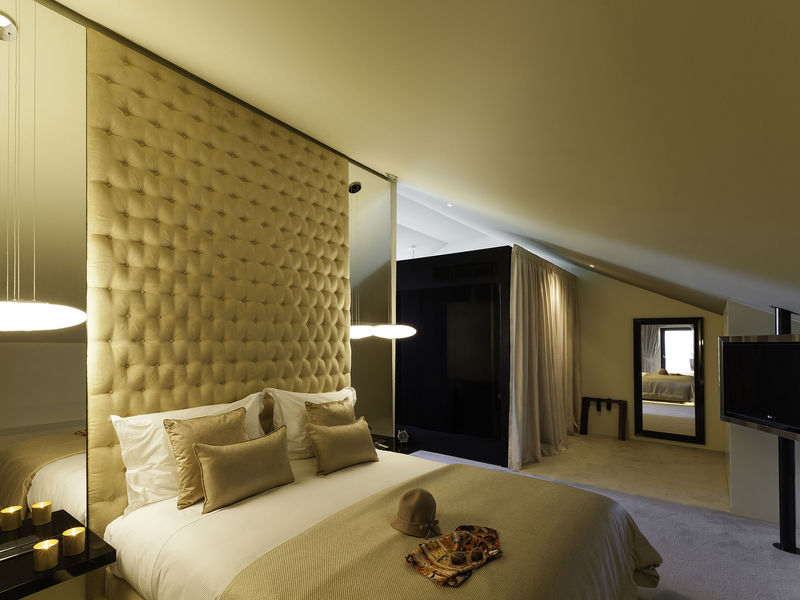 Rates starting with $160/night for Cosy Room to $400/night for Mercy Suite.
[button link="http://www.hotelscombined.com/Hotel/Mercy_Hotel.htm?a_aid=63056″ color="red" newwindow="yes"] Click here to Book Now![/button] [button link="http://www.booking.com/hotel/pt/mercy.en-gb.html?aid=369973″ color="red" newwindow="yes"] Check availability on Booking.com[/button]
Ratings and Review
Location
10/10
Service
9.67/10
Rooms
9.33/10
Food and drink
9.33/10
Spa & pool
N/A
Hotel Design
9/10
Business Facilities
N/A
Overal Rating
9.47

Mercy Hotel Lisbon Review Conclusions
PROS
CONS
+ Located right in the heart of the Lisbon
+ HiTech
+ Friendly staff
– Breakfast A La Carte may confuse some people
– No SPA
– No business facilities
A Boutique Hotel in great location with friendly staff.


Location: Mercy Hotel is a luxury boutique hotel in the center of Lisbon. The location is just perfect as the shopping streets and restaurants are near. At walking distance is Bairro Alto area where you find many restaurants and bars, busy nightlife and young stylish shops. Also in just a few minutes you can reach Chiado, a district offering luxury brands like Hermès and Swarovsky, along with Zara, Nespresso, Globe, Nike, vintage boutiques, the Mall "Armazéns do Chiado", many terraces and restaurants.
| | |
| --- | --- |
| Proximity to shopping areas | 10 |
| Distance to the top 10 city attractions | 10 |
| Restaurants and bars in the area | 10 |
| Location | 10 |


Service: Beside location, Mercy Hotel amaze me with attentive and professional staff members. The welcome at the reception and introduction of the room was great and friendly.
Good level staff's knowledge of foreign language. At check-in they ask me about credit card details, as a precaution, to guarantee payment of any incidental charges. This request it is a standard practice for hotels worldwide but at a luxury boutique hotel it can be annoying. Concierge service was admirable and help us to discover the Lisbon city.
| | |
| --- | --- |
| Friendliness and helpfulness | 10 |
| Staff's knowledge of foreign language | 10 |
| Check-in and check-out | 9 |
| Service | 9.67 |


Rooms: There are 47 rooms on 7 floors. Rooms are not large but this is not a surprise because we are talking about a downtown boutique hotel. The room we stayed in was very clean and modern equipped and stylish design. The bed was comfortable and I was able to rest well in it. The bathroom (separate shower and toilet) was clean but too much black for my taste and also somewhat impractical.
Overall I felt really good in the room.
| | |
| --- | --- |
| Size of the room and Cleanliness | 9 |
| Room facilities | 10 |
| Bathroom | 9 |
| Rooms | 9.33 |


Food and drink: The staff is very polite and fast and the food quality is very good. Breakfast is "Breakfast A La Carte" but I was surprised I did not get any menu. Very polite waiter came and placed the plates on the table: fruits, 2 slices of ham and cheese, bread, scrambled eggs and two pastries. So I can define the breakfast at Mercy as simple but good! Orange juice was fresh and tasty.
| | |
| --- | --- |
| Variety of breakfast | 8 |
| Quality of breakfast | 10 |
| Atmosphere and cleanliness | 10 |
| Food and drink | 9.33 |


Hotel Design:
Hotel theme is black. If you think black inspire you then you will love this hotel. Also there are mannequins in the lobby that are strange to some and scary for others. I took pictures with them and I have a lot of fun.
| | |
| --- | --- |
| Exterior design | 8 |
| Interior design | 9 |
| Elevators | 10 |
| Hotel Design | 9 |


Entertainment (Spa & pool):
There are not SPA or pool available.


Hotel Business Facilities:
There are not business facilities available.

Final ExpensivePlaces Conclusions I highly recommend Hotel Mercy for those who want to stay at a true luxury boutique hotel in the middle of Lisbon city. Staff are sensational and helpful, the rooms are clean and modern design.
Mercy Hotel Lisbon
Nr. of floors
7
Nr. of rooms
47
Built Year
2012
Address

Rua da Misericórdia 76 – Lisboa – 1200-273 Portugal,

phone: +351 21 2481 480
Below you can see Mercy Hotel Lisbon photos gallery: