If there's one positive aspect that Holiday Inn Thessaloniki can boast of, it will be its central location. The hotel is located a stone's throw away from the commercial and cultural districts of Thessaloniki. It is only 16km from Makedonia International Airport, and is centrally located in the city. The hotel is also close to major shops and tourist attractions. The Byzantine port is only two kilometers away so guests who are driving might find Holiday Inn Thessaloniki a good alternative to leave their car in. The hotel provides an underground onsite parking ensuring guests have peace of mind, especially for those driving an expensive car.
The I. Vellidis Congress Centre is also only two kilometers from Holiday Inn Thessaloniki. This makes it ideal for business travelers and/or congress participants. Public transport is also a plus as local buses ply the hotel route. Guests can be in and out of the congress center in just 10 minutes. The meeting facilities at Holiday Inn is also a good option for holding business meetings. Guests are provided with wireless internet connection throughout the hotel. This makes having meetings in the hotels even more efficient.
Right outside the hotel are shops and restaurants offering delectable cuisine. There are also waterside cafés that are within walking distance from the hotel. One need not fear of going hungry while staying at Holiday Inn Thessaloniki. Tourist spots like the Byzantine Old Town, is only two kilometers away. The iconic centuries-old White Tower overlooking the port is also only a few minutes away. So staying at Holiday Inn Thessaloniki affords guests easy access to the city's transport system, shopping districts, restaurants and cafés as well as tourist destinations.
Location seems to be the only bright aspect of Holiday Inn Thessaloniki though. Read the hotel reviews and you'll be shocked to read negative comments and horrible experiences of hotel guests. This may sound harsh but we can only hope the hotel management will take heed. Although it enjoys an enviable close proximity to transport and some of the tourist spots, the exact location of Holiday Inn Thessaloniki is not entirely safe. Some guests arrive late at night to find a couple talking on their floor every night. Strangely enough the man looks like a pimp. The hotel seems to be a rendezvous for such late night stints. Solo female travelers should take great caution.
Most comments on the rooms are horrible. Some guests found hair on the sink or with the bathroom window not closing so that they hear everything happening in the next door bathroom. The experience can be naturally unpleasant if not revolting. Though rooms cost 80Euros per night, there is not even a single bottle of water provided. There is no tea/coffee making facility either. Comments were made of an unpleasant smell of the rooms in general. Something the hotel management should definitely look into. Not all rooms are bad though. Some are comfortable enough and are equipped with basic necessities. Still not on par with what can be expected from a Holiday Inn hotel.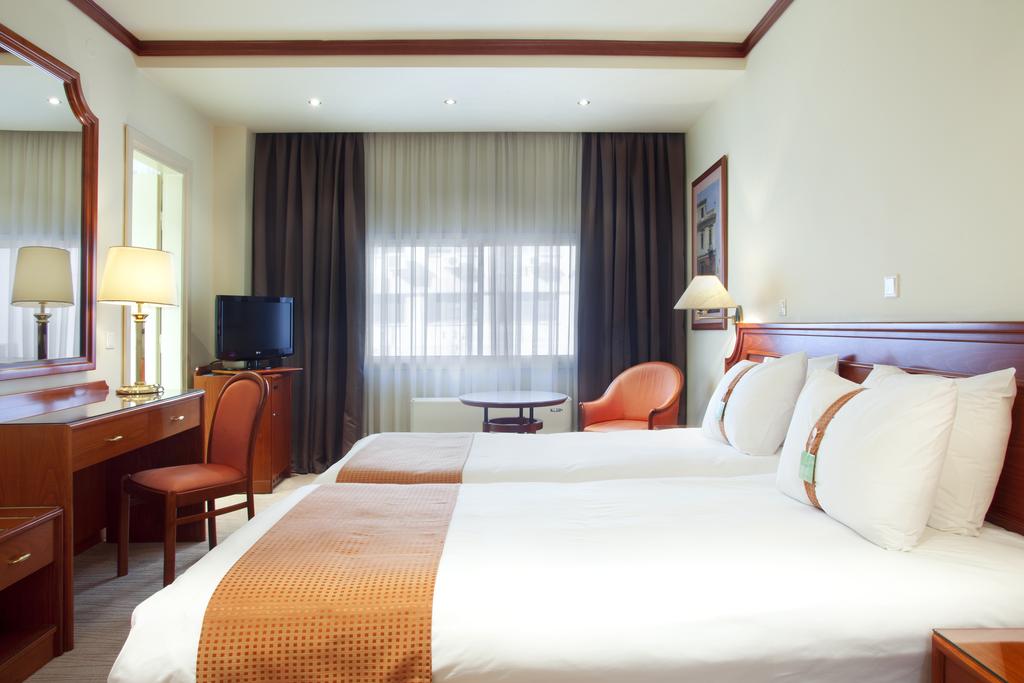 Cleaning staff could also be a bit thorough to the point of being fussy, going through your stuff unnecessarily. Try not to leave your valuables lying around. You can never be too careful in Thessaloniki. There is no place to relax outside. Rooms do not have a balcony. There is no roof terrace either or swimming pool. There is a small gym but it's more like a small room turned into a makeshift gym. There really isn't much to do there. Holiday Inn Thessaloniki definitely is not a perfect choice if staying for pleasure or leisure.
Some say Holiday Inn Thessaloniki is an old, run down hotel with stained carpets. It's more like a 40-euro per night hotel rather than the 80 euros per night the hotel normally charges. As it is close to a recently discovered archaeological site, the hotel is seemingly encased in a fence, making the area relatively scary at night. Dust and debris kind of scatter about so it's not really a pleasant experience to walk about. The excavation will probably last for years so it could take a while before Holiday Inn could be truly as inviting as it promises to be.
Staff are generally friendly but it would do well if they learn to smile more frequently. Most of the time they're very civil if not stiff. They'll shove you off to your room without so much as a welcome smile or a thank you. But if you land in a good room with no issues and you're not too fussy about service, you might still be able to have a comfortable, not necessarily pleasurable stay at Holiday Inn Thessaloniki.