Even you always use you laptop to write and a digital signature is convenient to use, sometimes in official occasions you'll need a classic pen to sign an important paper. For this kind of moments you should have a luxury fountain pen like Jack Row Architect writing instruments.
Each Jack Row Architect Limited Edition Fountain Pen is painstakingly produced utilising a combination of traditional techniques usually reserved for the creation of high-end fine jewelry alongside cutting edge technological processes employed in the fabrication of precision instruments. This careful blending of methodologies enables the creation of forms in precious metals which are innovative, yet of the uppermost quality.
You can choose from three versions: 18k White Gold – Diamonds $38,890, 18k Yellow Gold – Sapphires $34,325 or Sterling Silver – Black Diamonds $10,360.
Sterling Silver, Black Diamonds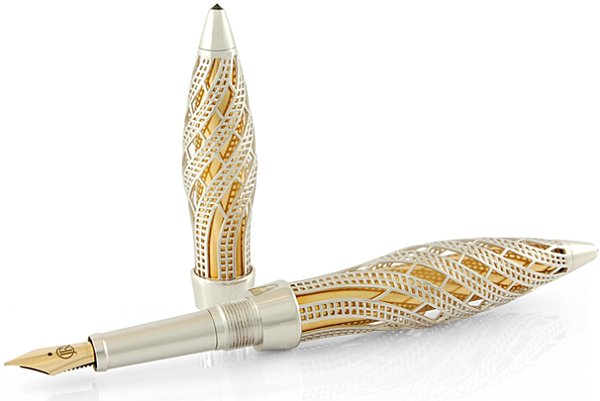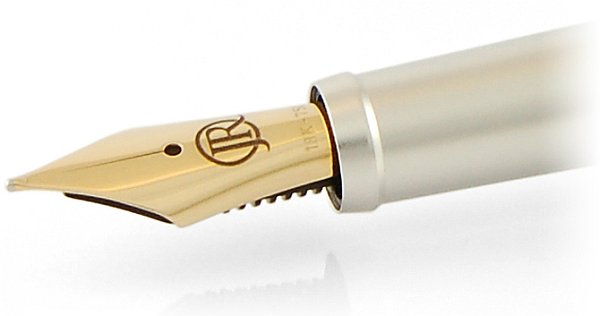 'Architect' Sterling Silver and Black Diamond Fountain Pen (Limited Edition) (ARF01)
Specifications:
Outer Filigree: Solid Sterling Silver, Rhodium Plated
Inner Barrel: 22ct Hard Gold and Rhodium Plated Solid Sterling Silver
Precious Stones: Approx. 0.2 carats Black Diamonds
Nib: Solid 18ct Solid Yellow Gold
Nib Size: Medium
Weight: Approx. 110g of precious metal
Ink-feed: Cartridge or Converter
Limited Edition of 888
Boardroom Table Display Stand: Oak/Glass
Accessories: Cotton inspection gloves, cleaning cloth, certificate and international guarantee, cartridges, converter, use and maintenance guide.
Packaging: Oak Presentation Box
The 'Architect' collection draws inspiration from the iconic architecture that graces the modern skyline and pays homage to man's engineering and architectural achievements. This piece is directly inspired by London's 30 St May's Axe, more commonly known as the 'Gherkin', located in the heart of the financial district.
Individually made to order using a combination of traditional goldsmithing techniques and cutting-edge technology, it takes approximately eight weeks of painstaking craftsmanship to produce each limited edition piece.
The iconic profile is one of the many carefully engineered features which make the piece so unique in design, yet ergonomic in use. A striking solid sterling silver or 18ct gold filigree offers a fascinating aspect of negative space, viewed though its fine, mesh-like structure. This external form also creates a beautiful writing balance, embracing the hand of the user. Furthermore, it breaks a common institution in luxury writing instrument design where simply 'cigar' shaped barrels are the accepted norm.
Encased by the outer filigree, the inner barrel is skillfully turned from solid sterling silver bullion, adding a reassuring weight and balance to the piece, confirming its value and luxurious nature. A British hallmark is laser engraved onto the inner barrel and legally guarantees the purity of the precious metal from which it is made, as well as bearing Jack Row's unique maker's mark. The inner barrel is protected and enhanced by either a layer of 22ct hard gold and/or rhodium plate. When opened, the bold, textural quality of the thread adds a striking aesthetic feature and enables a delightful tactile experience when capping and uncapping the writing instrument.
Handpicked black diamonds, sapphires or white diamonds are individually set by hand into the ends of the cap and barrel, adding further value and magnificence.
Excellent writing comfort is provided by the fountain pen's 18ct gold nib which is tipped with iridium to provide a fine and durable writing point. The designer's initials are engraved onto the top of each nib by cutting edge laser etching technology.
Production of the Jack Row 'Architect' Sterling Silver and Black Diamond fountain pen is limited to '888' pieces, and the 18ct variations just 88, further enhancing its exclusivity and investible, collectable nature. Only visible when uncapped, the limited edition number is engraved discreetly on the section, between the nib and thread. It is no coincidence that the number '8' is considered the foremost symbol of fortune and good luck in Chinese culture.
The writing instrument and the display stand are also accompanied by an international guarantee and limited edition certificate, cartridges, converter, special cleaning cloth, a use and maintenance guide and cotton inspection gloves. These are all packaged in a branded, luxurious, bespoke, oak presentation box with outer protective sleeve.
18-carat Yellow Gold, Sterling Silver, Sapphires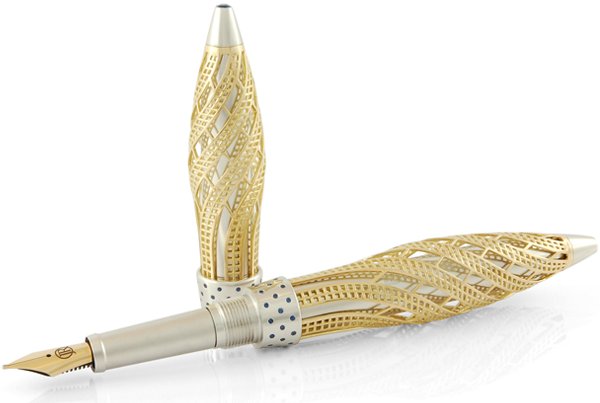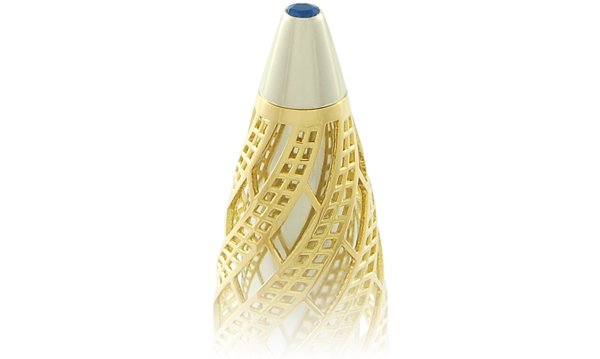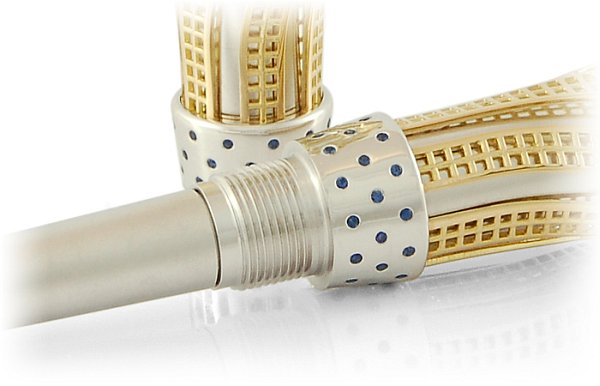 'Architect' 18ct Yellow Gold and Sapphire Fountain Pen (Limited Edition) (ARF02)
Outer Filigree: Solid 18ct Gold
Inner Barrel: Rhodium Plated Solid Sterling Silver
Precious Stones: Approx. 0.9 Carats Top Blue/Fine Quality Sapphires
Nib: Solid 18ct Solid Yellow Gold
Nib Size: Medium
Weight: Approx. 130g of precious metal
Ink-feed: Cartridge or Converter
Limited Edition of 88
Boardroom Table Display Stand: Oak/Glass
Accessories: Cotton inspection gloves, cleaning cloth, certificate and international guarantee, cartridges, converter, use and maintenance guide.
Packaging: Oak Presentation Box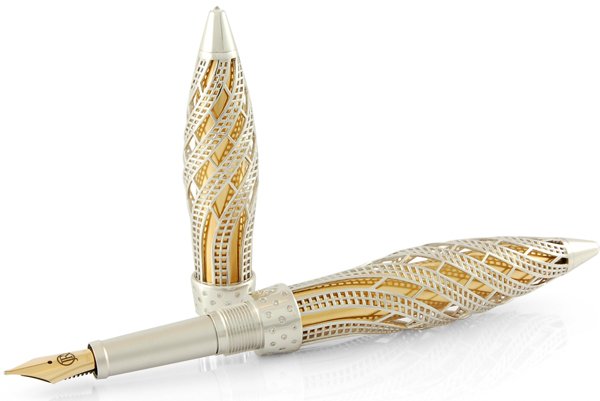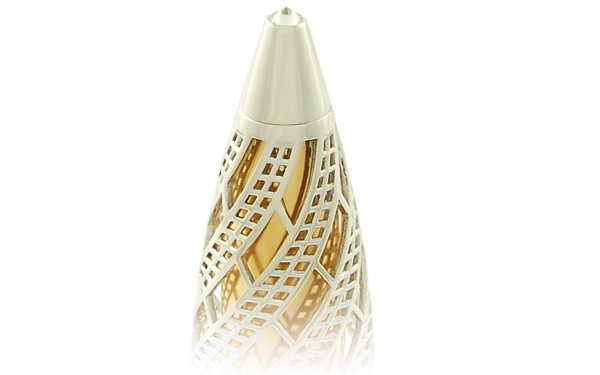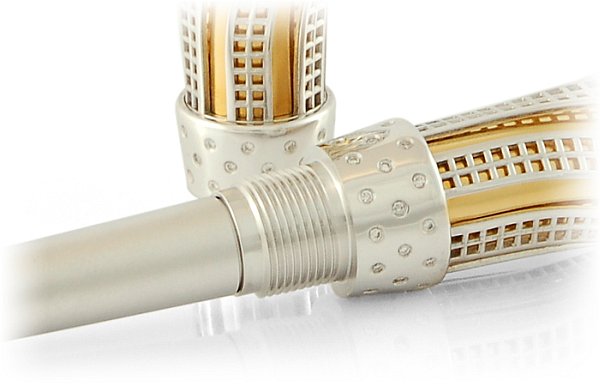 'Architect' 18ct White Gold and Diamond Fountain Pen (Limited Edition) (ARF03)
Outer Filigree: Solid 18ct Gold
Inner Barrel: 22ct Hard Gold and Rhodium Plated Solid Sterling Silver
Precious Stones: Approx. 0.9 Carats G/VS Diamonds
Nib: Solid 18ct Solid Yellow Gold
Nib Size: Medium
Weight: Approx. 130g of precious metal
Ink-feed: Cartridge or Converter
Limited Edition of 88
Boardroom Table Display Stand: Oak/Glass
Accessories: Cotton inspection gloves, cleaning cloth, certificate and international guarantee, cartridges, converter, use and maintenance guide.
Packaging: Oak Presentation Box
Link to buy: www.pianki.com
Via www.luxurylaunches.com