Who does not love traveling to Hawaii? Perhaps only those who have never been to Hawaii … If you plan your first trip in Hawaii don't gamble with your accommodation! Choose Hilton Hawaiian Village and you can not go wrong!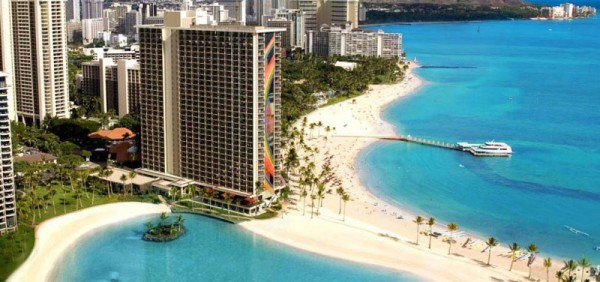 Hilton Hawaiian Village Waikiki Beach Resort is a perfect mix of the best resort accommodations and classic hospitality on Waikiki's widest stretch of beach. The resort features more than 90 shops and services, 16 restaurants, lounges and bars; and every Friday evening, it sets the stage for a celebration of Hawaiian culture and entertainment ending in a spectacular fireworks show.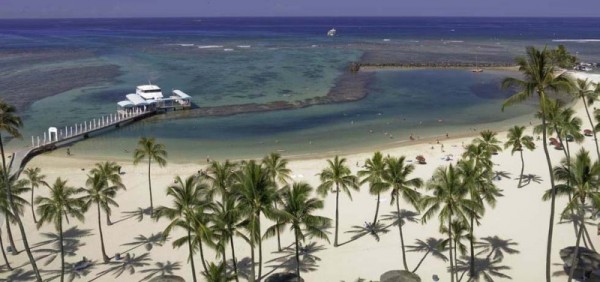 The Village has hosted several television shows, including "Hawaiian Eye," "Hawaii 5-0," "Beverly Hills 90210," "Pacific Blue," and "Baywatch Hawaii."
Light fixtures and woodwork throughout the Kālia Tower lobby depict the night blooming Cirrus plant. This plant, a member of the cactus family, produces only one flower a year that blooms at night for only a few hours.
Waikiki's largest pool is at the Hilton Hawaiian Village: the 10,000-square-foot Super Pool. Plus, Waikiki longest resort pool slide is also at the Hilton in the Paradise Pool at 77 feet.
Approximately 578,560 tiles were arranged to make the lei mural mosaic design that lines Mandara Spa's infinity swimming pool at the Kālia Tower.
Over 380,000 key cards are issued annually at the Hilton Hawaiian Village.
Some 2 million guests visit the Village each year, meaning there are more than 5 million pieces of luggage that come through the hotel annually.
The hotel sends out nearly 44,000 pounds of linen to launder each day!
The Hilton Hawaiian Village serves approximately 136,540 mai tais each year. It also serves about 30,000 Blue Hawaii cocktails annually as well.
More than 1,000 tons of food is recycled at the Village each year. This organic waste is processed and recycled into soil amendment, irrigation water, and biogas, which is then converted into electrical energy.
It took more than 35,000 tons of sand to replenish the beach and bottom of the lagoon during the rejuvenation of the Duke Kahanamoku Lagoon.