We arrive to Kempinski Hotel Corvinus Budapest for our Budapest trip. Choosing the right hotel in Budapest is not an easy task because there are so many Hotels in Budapest with good ratings and reviews. Even 60% from visitors are business travelers, we, as tourists, we were happy that we choose Kempinski Hotel. Take a look at our Kempinski Hotel Corvinus Budapest Review and you find interesting facts about it!
Kempinski Hotel Corvinus Budapest Conclusions
PROS
CONS
+ Friendly staff
+ Located right in the heart of the Budapest
+ Good Breakfast
– The pool is small
– No tea/coffee makers in room

A luxury hotel in great location with staff very helpful and friendly.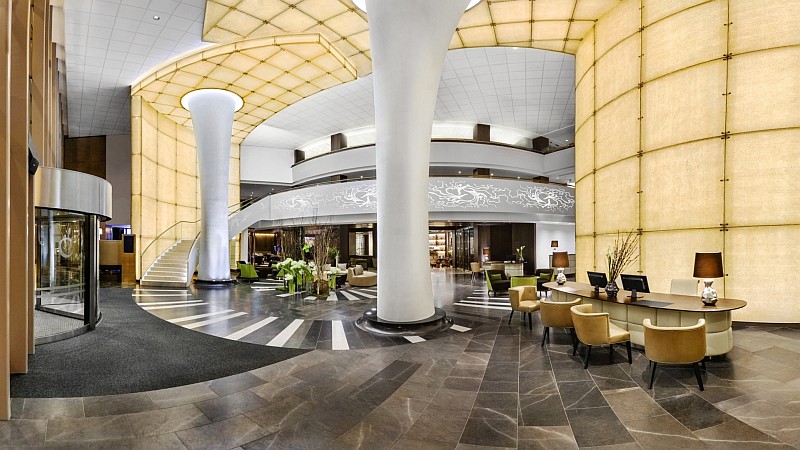 Location:
You can hardly find a better located hotel in the Budapest. From location point of view Kempinski Hotel Corvinus Budapest is one of the best choices. Walking distance from most
Budapest's best attractions
, an animated park around the corner (Erzsébet park), very close to Vaci Street, the most famous pedestrian shopping street of Budapest. A good located hotel save your most precious resource: time.
| | |
| --- | --- |
| Proximity to shopping areas | 10 |
| Distance to the top 10 city attractions | 10 |
| Restaurants and bars in the area | 10 |
| Location | 10 |


Service: Beside location, Kempinski Hotel Corvinus Budapest amaze me with friendly and professional staff. The welcome at the reception and introduction of the room was great and friendly. They make to feel like a real king.
Check-in and check-out are both very fast and staff is polite.
Attention to detail make the difference, so I was impress when I come back from city trip in the night and I found two small bottles of water in room, the weather forecast write down on a piece of paper the bed ready for sleep and a card signed by hotel staff with wordings: "During your stay I will be responsible for the room care. If there is anything missing to enhance you well-being place do not hesitate to contact us on extension 16.".
From my experience the staff of Kempinski Hotel Corvinus Budapest is one of the best staff in the Europe.
| | |
| --- | --- |
| Friendliness and helpfulness | 10 |
| Staff's knowledge of foreign language | 10 |
| Check-in and check-out | 10 |
| Service | 10 |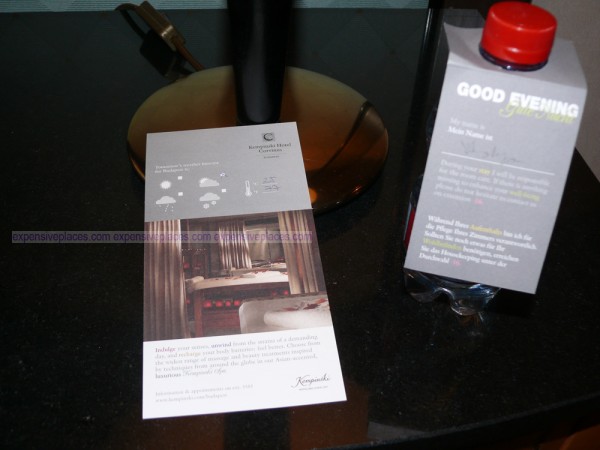 Rooms: There are 207 Superior Double Rooms (28-35 m2), 119 Deluxe Double Rooms (35-43 m2), 31 Suites (43-124 m2), 1 Presidential Suite (172 m2), 1 Royal Suite (189 m2), and 3 Handicapped Rooms. Smoking Rooms are available at request.
We stay in a Deluxe Double Room and the size was just perfect for our needs: clean and with new furniture. We were happy with interior design and the bed was comfortable and we slept well.
The Bathroom is spacious, clean, new and it features both shower with glass door and bathtub with curtain.
Room amenities are normal for a five star hotel: Safety Deposit Box, Air Conditioning, Trouser Press, Desk, Seating Area, Heating, Shower, Bath, Hairdryer, Bathrobe, Free toiletries, Toilet, Bathroom, Slippers, Pay-per-view Channels, TV, Telephone, Fax, CD Player, Satellite Channels, Minibar, Wake Up Service/Alarm Clock.
There is not coffee maker in the room but the coffee at Kempinski' restaurant is very good…
Many celebrities (Michael Jackson, Madonna, Brad Pitt, Bill Gates, Antonio Banderas, Elton John, etc) choose Kempinski when they were in Budapest. They all were staying in Royal Suite, "an apartment inspired by Hungary's Renaissance royalty, King Mathias and his wife Beatrice, the Royal Corvinus Suite commands a stunning view of Budapest sprawling majestically outside your windows, with a rare frame boasting Andrássy út and St. Stephen's Basilica. The 189-sqm space is outfitted in city chic, in hues of black and gold, and adorned with original Hungarian artwork."
| | |
| --- | --- |
| Size of the room and Cleanliness | 10 |
| Room facilities | 9 |
| Bathroom | 10 |
| Rooms | 9.67 |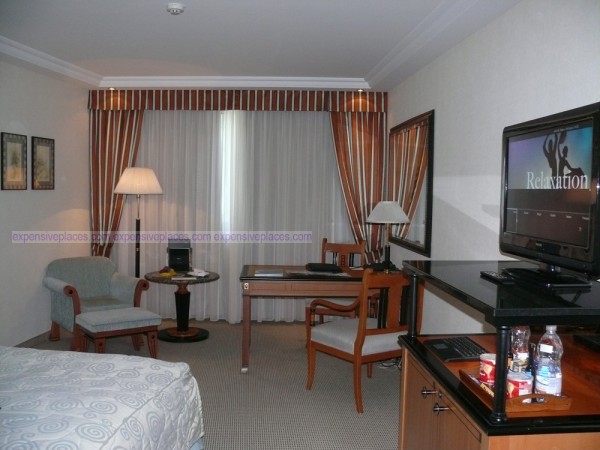 Food and drink: Breakfast was great with medium variety of breakfast but very good quality of food and drinks. I like outdoor breakfast so I try Kempinski Terrace and I was pleasantly surprised of atmosphere and view directly to shopping street.
NOBU restaurant worth trying.
| | |
| --- | --- |
| Variety of breakfast | 9 |
| Quality of breakfast | 10 |
| Atmosphere and cleanliness | 10 |
| Food and drink | 9.67 |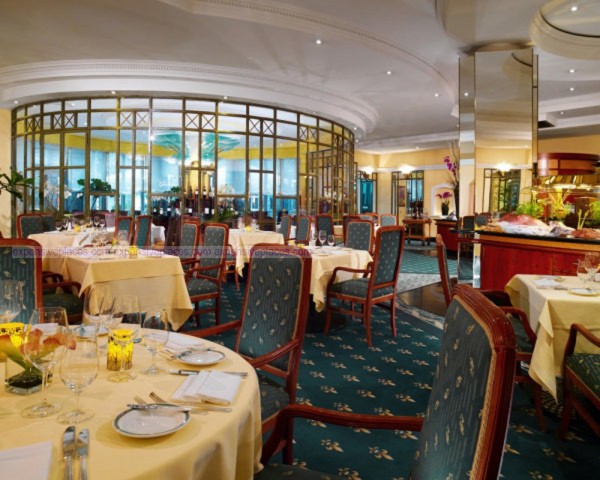 Hotel Design: Kempinski Hotel Corvinus Budapest has a luxurious and modern design but not extravagant. The exterior design is modern and futurist. I was pleasant surprised when a saw a electric cars plug station free of charge!
| | |
| --- | --- |
| Exterior design | 9 |
| Interior design | 9 |
| Elevators | 9 |
| Hotel Design | 9 |


Entertainment (Spa & pool): The SPA center features a choice of the latest fitness equipment, Asian massage therapies, Phytomer beauty treatments, and sensory diversions such as sensation showers, single and double, heated pool, saunas and a health bar. The pool is small and intimate but many people want to have a large pool in the hotel.
| | |
| --- | --- |
| Spa Facilities | 9 |
| Pool | 8 |
| Hotel Gym Equipment | 9 |
| Entertainment (Spa and pool) | 8.67 |


Hotel Business Facilities: There are 12 flexibly separable venues and ballroom for meetings, conferences and exhibition from Board Room setup of 10 people to Theater setup for 450 people. It is available a Business Center inside of the hotel and WiFi is available in all areas and is free of charge.
| | |
| --- | --- |
| Conference Venues Design | 10 |
| Conference Venues Size | 10 |
| Business Equipment | 10 |
| Hotel Business Facilities | 10 |


Conclusions
Final ExpensivePlaces Conclusions
Instead of of conclusions maybe I should say only one word: Hospitality! We highly recommend Kempinski Hotel Corvinus for your accommodation in Budapest no matter if you come to visit the city or you are in a business trip.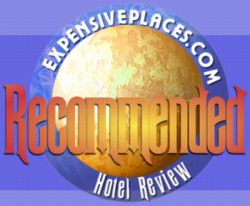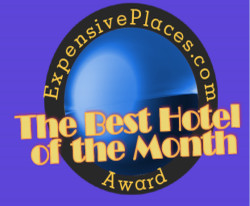 Below you can see Kempinski Hotel Corvinus Budapest photos gallery:
Kempinski Hotel Corvinus Budapest, reviewed by Liviu M on 2012-10-011T10:57:46+00:00 rating 9.5 out of 10