The best place in Crete (largest one of the best Greek islands) for luxury travel is Elounda, famous tourist attraction, heavily visited by VIPs for its seaside luxury resorts. It is visited almost every year by the royal family of Saudi Arabia.
The road into Elounda from Agios Nikolaos is 12 km in length and it climbs to the top of a small mountain. The view from the top is at least amazing. Elounda has the most desirable weather in the Greece, with 7 months a year (April-October) of perfect temperatures, summer breezes and sunshine…guaranteed! It hardly ever rains! The average temperature is 26 degrees and 1.6 rainy days per month.
After days of research decide that the best luxury resort in Elounda is Domes. Domes of Elounda collection features suites for couples, family suites, private residences and luxury villas.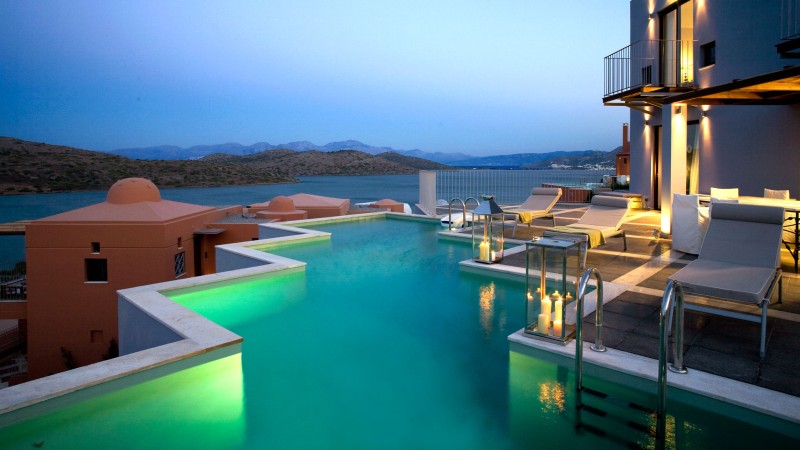 With views of the landscaped gardens or the magnificent Gulf of Elounda, the balcony features a heated Jacuzzi letting you experience an unpretentious level of luxury. All suites come with all premium amenities you would expect such as fine linen, soft cotton sheets, plush microfiber bathrobes and slippers, and luxury bathroom products.
The most exclusive villa of the Domes of Elounda collection, the 450sqm Royal Spa Villa is located on the northwest peak of the resort offering dramatic views over the entire resort landscape and the picturesque island of Spinalonga from both its vast indoor living areas and the most authentically designed private swimming pool with its adjacent four-person Jacuzzi. The Villa presents an extravagant interior that brings together intense color picks and earthy shades, oversized windows and stunning verandas with sweeping views over the Mediterranean sea. Spread across three floors, the Villa features a uniquely themed room arrangement that includes a domed octagon-shaped bathroom, a silver-forged rose pedal fountain, and a private spa with its own sauna, heated lounge chair and special indoor and outdoor spa treatment capabilities. The exuded opulence is a reflection of the specially picked decorated items including BLANC D'IVOIRE objects and table lamps, SPIRIDON and GONG lighting, DESIGNERS GUILD fabrics and handmade furniture by celebrated designer Olyvia Syskou. Additional highlights include ASA vases, JARDIN D'ULYSSE décor and metallic sinks forged by VIVA.
The rates start with $616/night for Open Plan Suite (Sea View with Outdoor Jacuzzi) to $3500/night for Royal Spa Villa (three bedrooms with private pool).
[button link="http://www.hotelscombined.com/Hotel/Domes_of_Elounda_Boutique_Beach_Resort.htm?a_aid=63056″ color="red" newwindow="yes"] Click here to Book a room in Domes of Elounda[/button]