Project Atlas, a collaboration between H2 Yacht Design and Laurent Giles Superyacht Architects, is a Superyacht that utilises the efficiencies of sail power. The contemporary 5 deck super yacht form is complimented by the sail arrangement, demonstrating the potential in merging Superyacht volume with the graceful elegance of a sailing yacht.
The exterior styling of this 110m concept embraces a pure and simple design language that delivers a contemporary yet timeless aesthetic. Subtle detailing uses a combination of crisp edges and soft flowing curves. Signature elements are repeated over the superstructure, highlighting the understated tailoring that unifies the concept.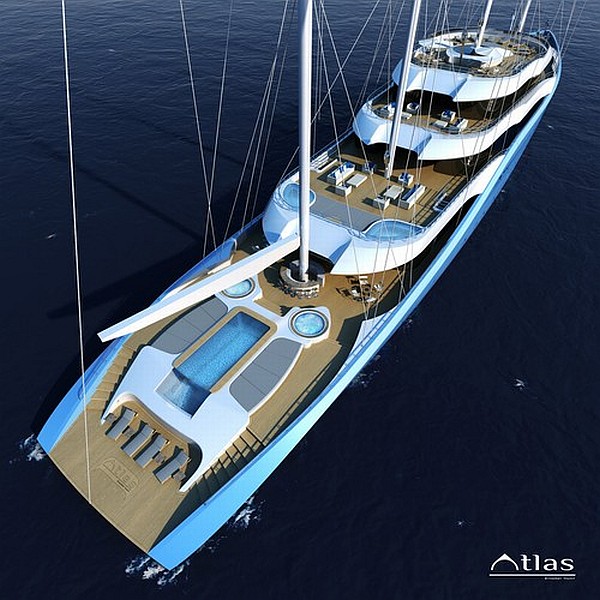 Exterior deck areas are generous, the main aft deck incorporating a 7m infinity pool with a water wall feature to the swim platform below. Twin Jacuzzi's, large sunbed areas and a circular bar provide ample space for day entertainment while the deck above provides a stylish lounge environment. The substantial open sundeck is organised for avid sun worshippers. Low bulwarks and classic handrails provide uninterrupted views of the surrounding vista.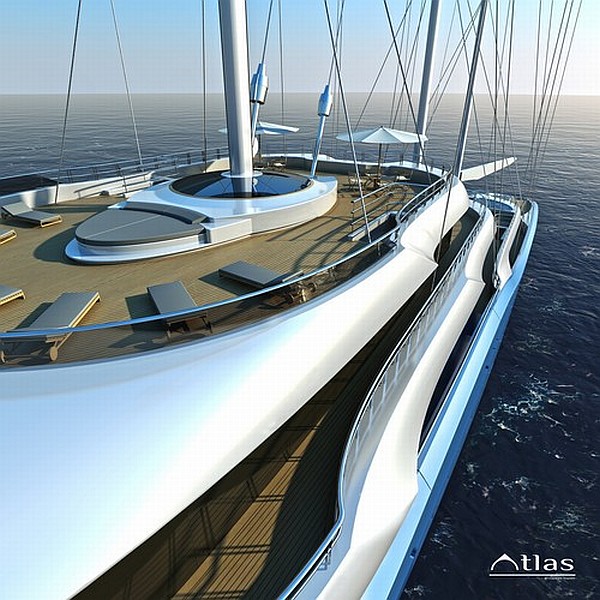 Interior features include a large sundeck skylight that floods natural light down though the heart of the interior. Private Balconies penetrate the hull for each guest cabin, providing an extra level of luxury. Unsightly Life boats are integrated into the superstructure, screened by detachable bulwarks. A full beam tender garage is located directly below, providing ample space for the regular limo's and toys. The foredeck also carries 2 tidy storage bins housing a combination of ribs and jet skis.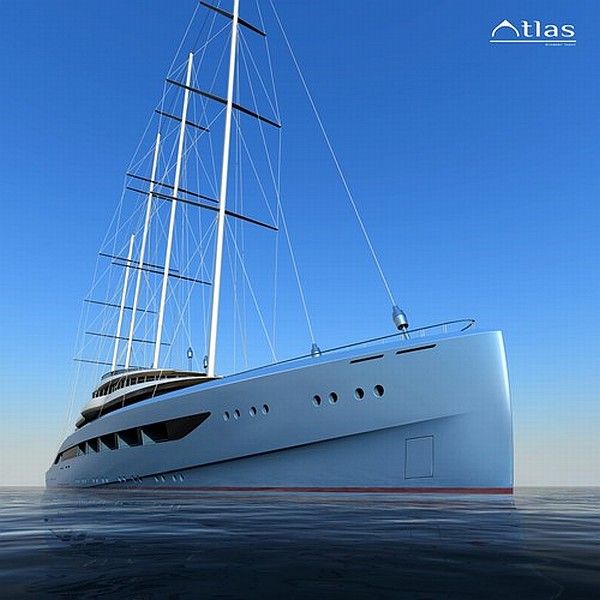 When using both motor and sails the vessel can cruise easily at 16 knots with a possible fuel saving of between 40% and 60%, coupled with an equivalent increase in range. At a time of green technologies the concept of a large sail assisted motor yacht is a realistic proposal, outperforming the current array of 'green' solutions.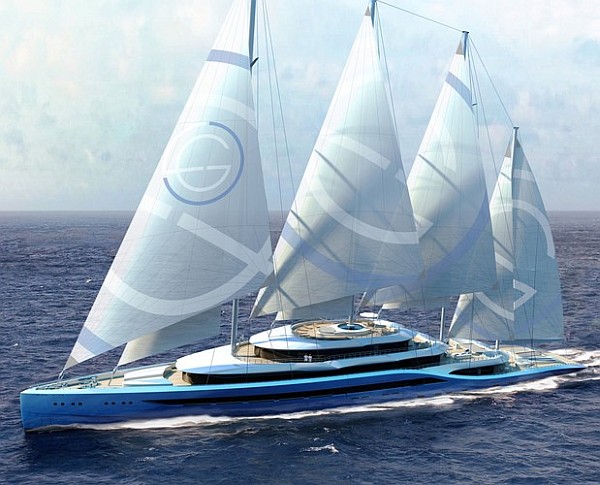 Heeling is limited to maintain the comfort expectations and characteristics of a motor powered Superyacht. Stabilisation under power and at anchor is provided by retractable active stabilisers; however, underway the natural damping of the sails offers energy free stabilisation. Utilising multiple sails, individual sizes are kept relatively small. Combined with state of the art sail handling equipment the vessel can be operated with a conventional number of crew. Cruising or passage making with sails alone eliminates all but hotel loads from the power plant, with the advantage of near silent operation.
Power is provided by a diesel electric power plant and is designed to be totally flexible with the sail power. The diesel electric combination can alone power the vessel to a maximum speed of 18 knots with a range without sail assist of 6,000 nautical miles.
Designed to be compliant for up to 20 guests Atlas is ideal for extended cruising and would make an interesting and unique charter prospect.