The Maxi Dolphin, a boatyard founded in 1987 by Vittorio Moretti unveil at Festival de la Plaisance in Cannes two new yachts: MD51 Power BELLAVISTA and GT (Gran Turismo). Both models have two 435hp Volvo Penta IPS 600 engines that guarantees a higher top speed, greater acceleration and improved performances with an incredible increase in efficiency compared with inboard engine systems.
Also, both editions were entirely created using the Sprint technology to obtain extremely robust motor yachts of a contained weight that make it possible to install engines of a lower capacity to those normally used in yachts of this size, thus guaranteeing a notable reduction in consumption.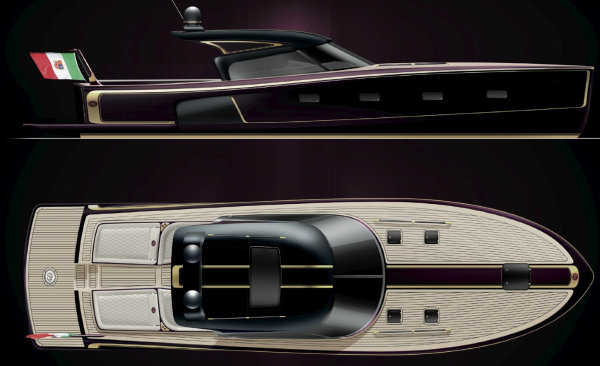 MD51 Power BELLAVISTA: The colours of the exterior are metallic, dark red and black. The deck is produced from finest teak while the cushions and the extremely comfortable sofa come in quilted leather in a sophisticated ivory colour.
The interior surfaces are in wood, in precious finishes and essences, painted in oyster white. The interior sofas are in soft leather, available in the variants
ivory 2024 or blue 2242. The floor will be in leather in the elegant shades of blue or natural hide, or in peppercorn Loro Piana Byron Plain fabric. A stunning white marble is used for the kitchen surfaces, a blend of tradition and innovation, while an elegant blue marble is used for the bathroom surfaces. The basins and handles are in brass.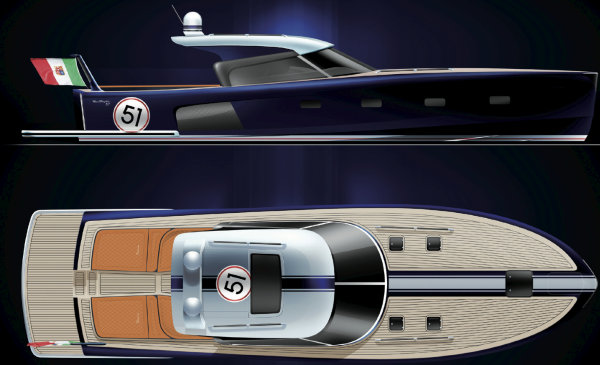 GT (Gran Turismo): The colours of the GT model are metallic: light blue, dark blue and orange, with decorative stripes and circular numbers just like those used by race cars. The wood used is fine teak. The sofas, extremely modern and sophisticated, are covered with quilted leather in sand and orange shades.
The interiors are wooden, painted in a refined ice white shade, with inserts in carbon fibre or titanium. The interior sofas will be in fine Alcantara, either
orange or tobacco in colour. The floor will be in leather in a natural hide shade. The hi-tech kitchen surfaces are in brushed stainless steel, as are the
basins and the handles. The bathroom surfaces are available in carbon fibre or black glass, all of which references to the best-known racing cars.
About Maxi Dolphin: In over two decades of activity, Maxi Dolphin has designed and built more than 300 boats. In 2007 the boatyard branched out into the production of custom motor yachts, which is what Maxi Dolphin still specialises in today. What characterises Maxi Dolphin is the use of innovative high-tech materials, such as Kevlar or carbon fibre, and state-of-the-art production methods.
Link: www.maxidolphin.it