After the Baselworld 2012 successful premiere of the 'Son of a Gun' – Black and Steel edition, ArtyA has now launched a full 'Son of a Gun' Collection, containing real bullets and now available with the following case treatments: Black, Steel, Bronze, and Coup de Foudre – cases sculpted using the patented 'lightning process'.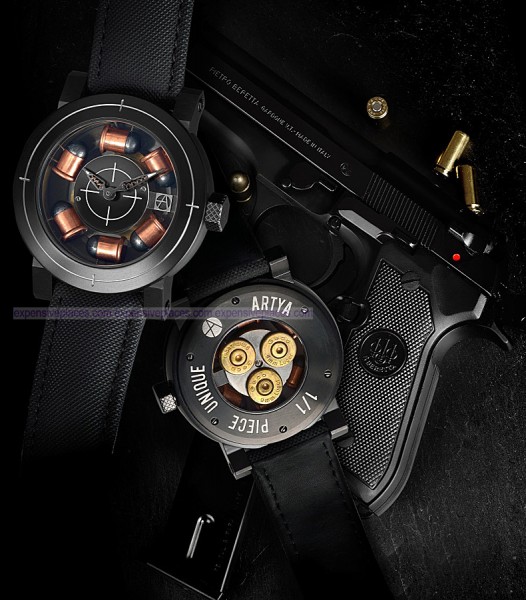 'Werewolf' is the most mystical piece of the Son of a Gun Collection. It contains a cut-up silver bullet, hand forged during a full moon night and engraved by a world famous engraver. Finally they rubbed some garlic all over the projectile to make it ruthlessly efficient against werewolves and vampires of modern times. Features real silver bullets, hand forged during a full moon night. Truly and ruthlessly efficient against all vampires and werewolves of modern times.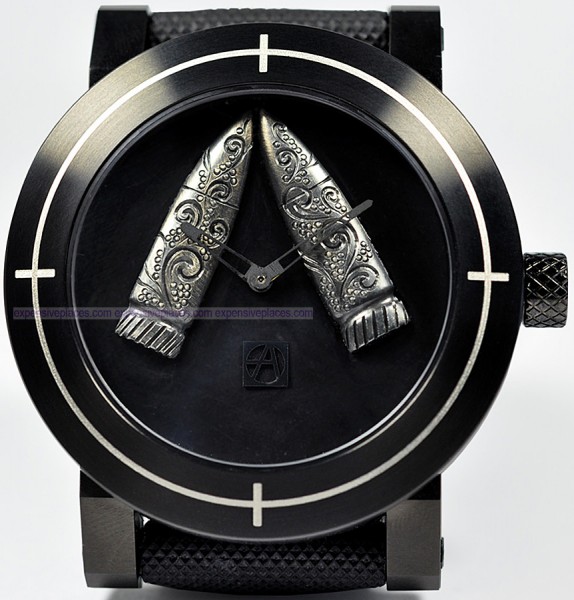 'Werewolf' is available for sale at www.artya.com for $8,299.
Each masterpiece contains a different number or shape of bullets – shot using a highly technical and patented process – making each watch totally unique. Watch cases are sculpted by real lightning bolts, ranging from 100'000 to 1 million volts, transforming and coloring the steel in a unique way each time. The rotor is ballasted with three cut-ofF 357 Magnum cartridges; when it turns, it reloads the high end automatic Swiss movement.