La Mamounia Marrakech is undoubtedly a jewel in the crown, Morocco's greatest treasure. No wonder it was voted the World's Best Hotel in this year's Conde Nast Traveller Readers Awards. From the minute you walk in, you know you've entered a whole new world, transporting you back to Morocco's glorious past. Elaborate intricate carvings on the winding staircase will make your jaw drop. The sprawling gardens, the massive outdoor pool, the majestic spa, all add up to La Mamounia's magical charm.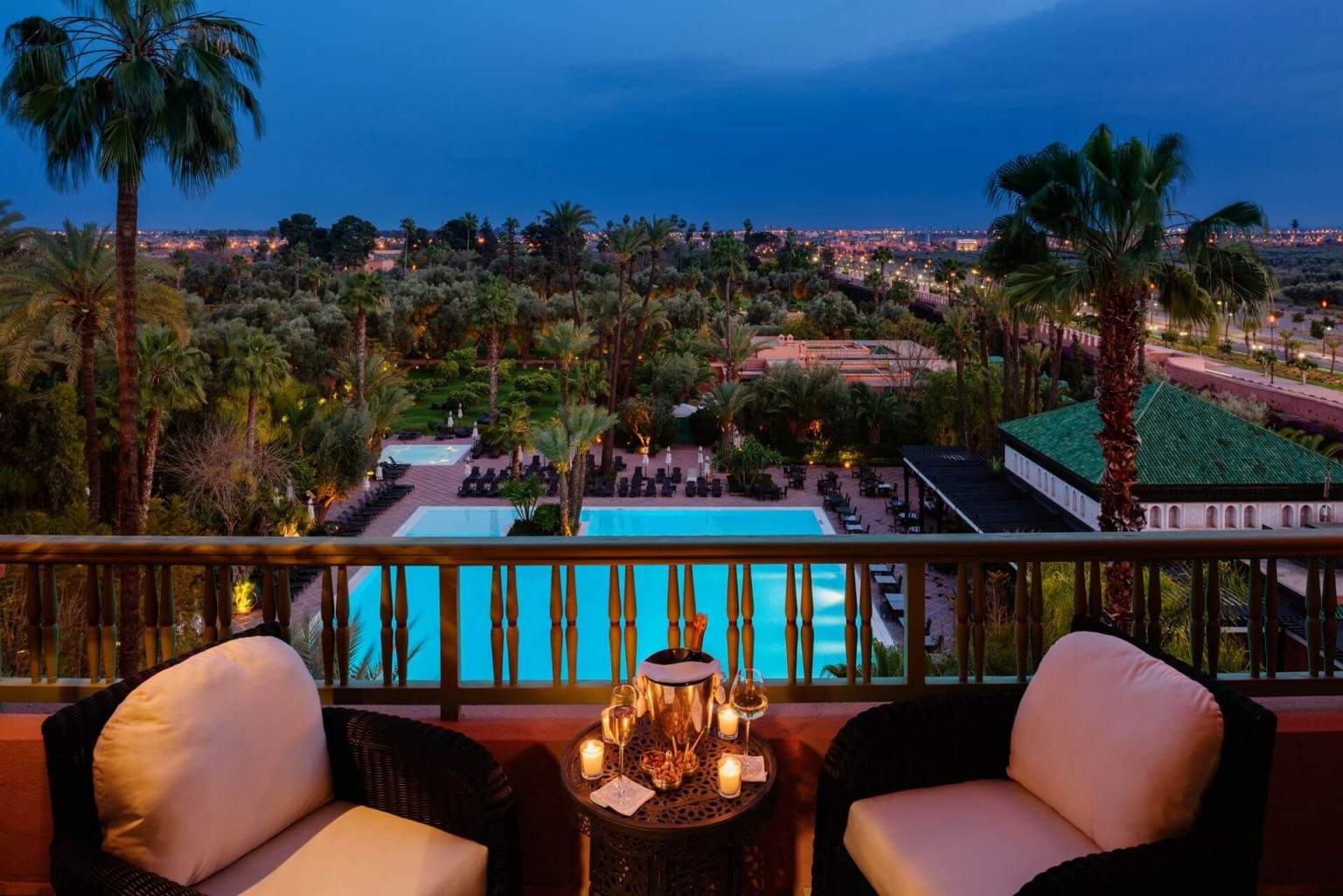 Dating almost a hundred years old, La Mamounia Marrakech is a tale in Morocco that is almost as old as time. Located in the walled medina of Marrakech, it is the perfect place to relax and unwind in the luxuries of the present while enjoying the aura of the golden years of Morocco gone by. It's like time stood still at La Mamounia Marrakech, almost the only 'living' memory of the land's glorious past. Its Moroccan-inspired architecture and theme provide both locals and tourists a glimpse of what Morocco was like many years ago. Not surprisingly, La Mamounia Marrakech is a favorite hangout for celebrities and notable individuals. It's the place to be and be seen.
As it is close to the shade of the Koutoubia minaret, it is only a stone's throw away from the famous Jamaa El Fna Square. It is close enough to the mesmerizing chaos of the medina, but far enough for guests to be able to watch from a distance without getting sucked into the medina's frenzy. Since reopening in September 2009, La Mamounia has also served as an inspiration to many aspiring Moroccan literary writers. La Mamounia Marrakech has since launched its own literary prize promoting Moroccan literature throughout the land and beyond.
One would easily think that La Mamounia Marrakech is only meant for the rich and the famous. Surprisingly though almost anyone can actually afford a drink or two at the outdoor patio of the hotel if only to check out its stunning architecture. For a 'steep' price of $19 USD for a whiskey, you get to enter the Palace and take a peek into what it's like inside. You get to pretend you're a celebrity too. From the moment you step into the well-manicured gardens, you automatically think you have entered the counterpart of Beverly Hills Hotel in Marrakech. The Moroccan-inspired architecture of the buildings, the towering doormen, and well-landscaped gardens punctuated by awe-inspiring French dog sculptures is like leaving all of Morocco completely. Walking inside is like a breath of fresh air after being caught up in the frenzy from the neighboring souk or market.
Inside is like finding a true haven. Beautifully crafted lounge chairs dot the outdoor patio. Birds frolic on top of the swaying age-old trees as cool breeze blows across your face. Add the lush gardens surrounding the Moroccan-themed palace; you know every penny you're spending on your drink is well worth it. Not only that, after enjoying your cocktail you can also go shopping at the small jewelry store near the entrance of La Mamounia Marrakech. Various objets d' art will dazzle you. But with a little patience you might just be able to come out of the shop with a brand spanking new ring for less than $100. If a beautifully crafted ring studded with equally dazzling quartz interest you then you should try and grab a drink or two at La Mamounia Marrakech.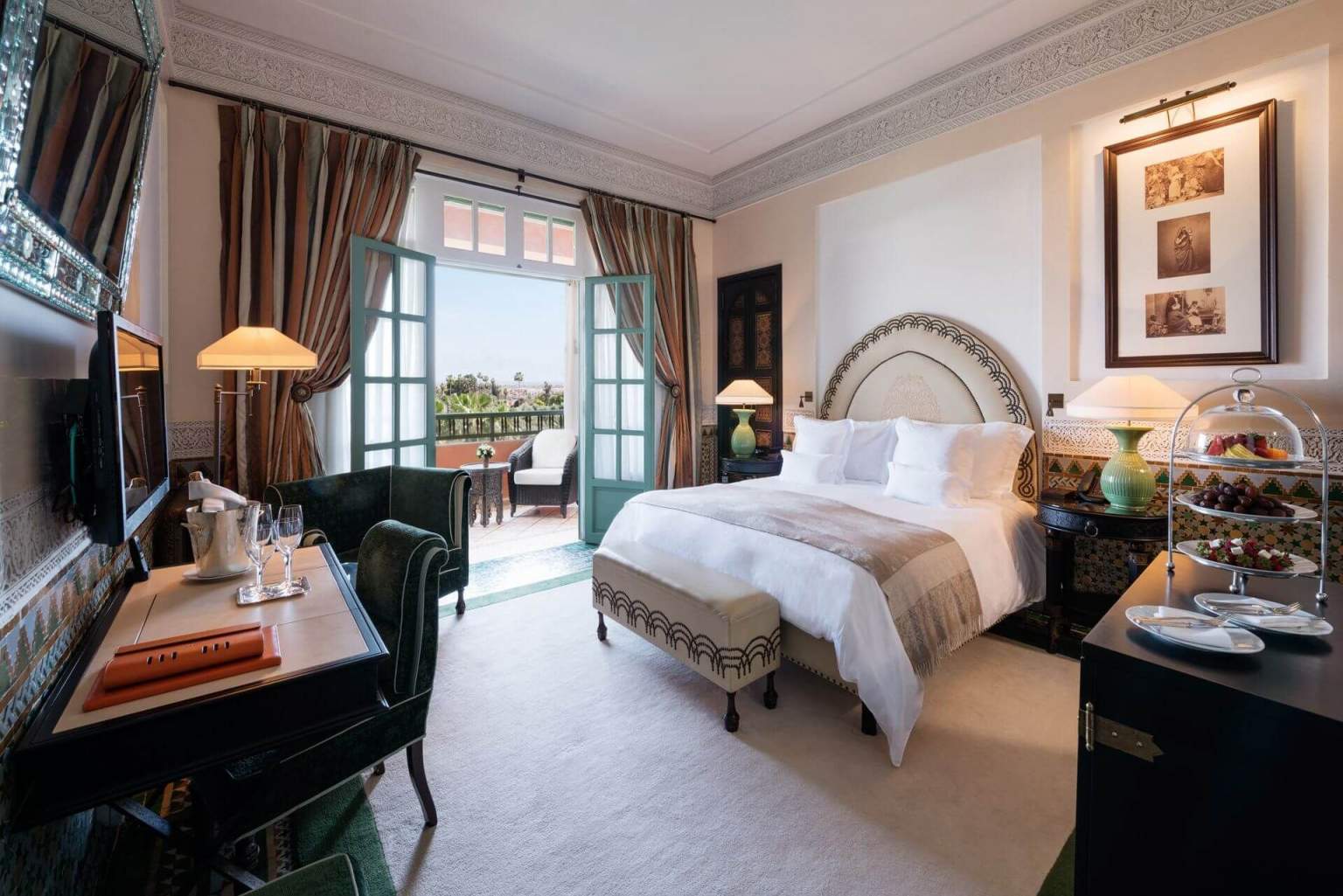 But if you have more money to spare but not enough to stay in the hotel, here's another alternative. Try going for a day pass that allows you to explore and enjoy La Mamounia Marrakech's stunning and massive outdoor swimming pool. For only (£35 per person per day). Now that's almost equivalent to staying like royalty for a much cheaper price. La Mamounia Marrakechl has two pools, one indoor, and one outdoors. Having an indoor pool is a lovely touch for cloudy or rainy days. While outside is the massive pool that when heated looks more like a hot spring rather than an ordinary swimming pool. The steam coming out of the pool makes it even more relaxing, inviting and warm. Doubled by the excellent service by the staff, there is nothing more you can ask for.
The food by the pool is quite palatable too although the menu is a bit limited. The rather pricey buffet is also served at the restaurant next to the pool. Beautiful but expensive seems to be the trademark of the hotel. The buffet costs at least £50 per person, or £80 for the brunch on a Sunday. Even the basic pool snack menu was at £20 for a burger and chips, £4 for a can of coke. At the bar it's even higher, charging at least £9 for a small local bottle of beer and £7.50 for a can of Coke. The Italian restaurant was more reasonably priced although it's still £25 per head for a main course. But the food is a little better. Had drinks cost less at the bar, more people might frolic there. Instead people at the bar are sparse making the hotel look like it lacked atmosphere. La Mamounia is definitely a lovely hotel to gaze at but definitely not easy on the pocket.
Contact:
LA MAMOUNIA
Avenue Bab Jdid
40 040 Marrakech Maroc
Tel.: +212 5243-88600
informations@mamounia.com