The mere mention of Mykonos conjures up images of endless rows of white houses and cottages lining a cerulean sea. White yachts and cruise ships dot a stunning blue seascape. It is almost everybody's perfect holiday escape. But with the many options of boutique houses in Mykonos, how does one choose the best? Thankfully, we need not go further. Ideally located next to the iconic windmill landmark in Mykonos town, Mykonos Theoxenia is your ideal getaway.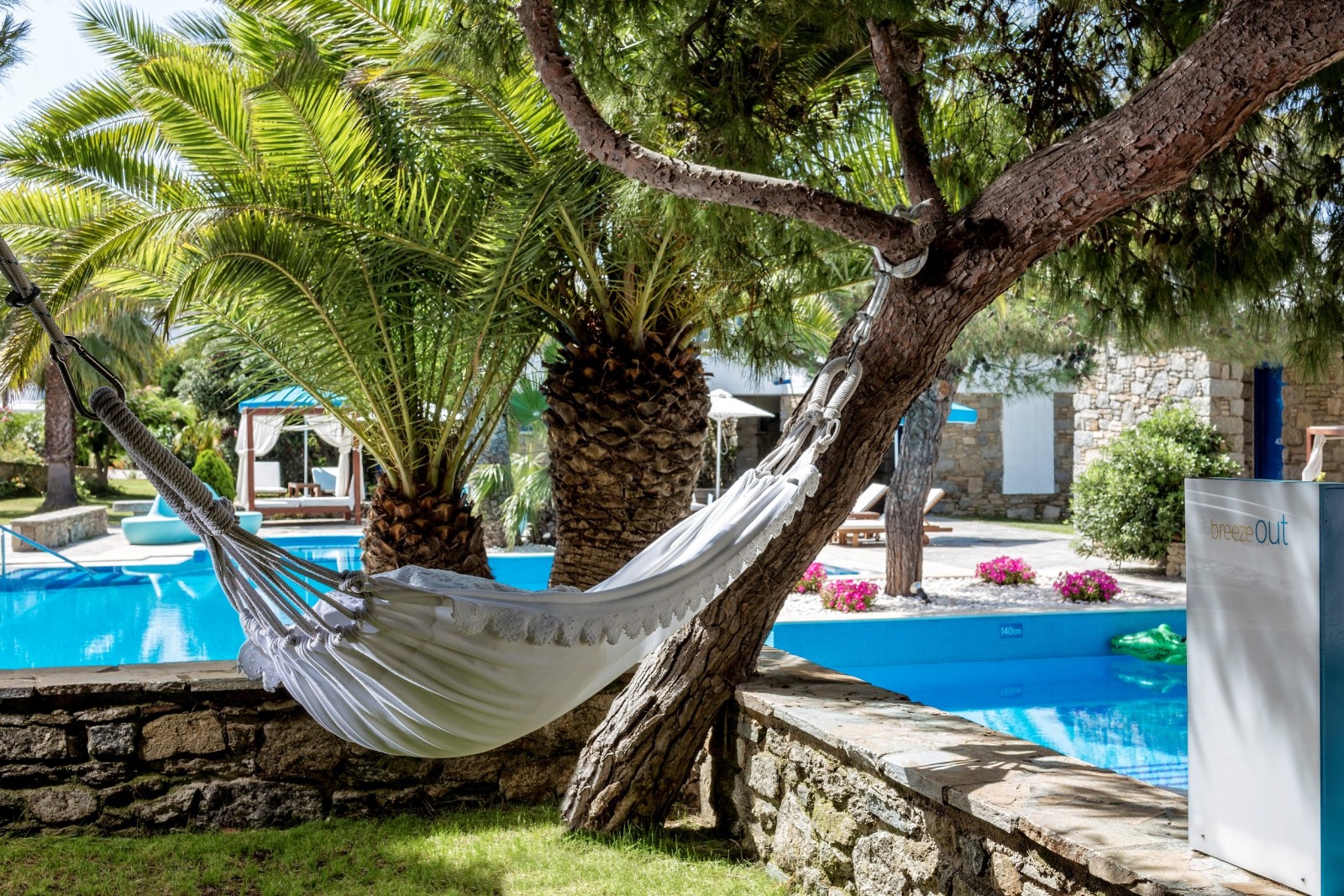 Small and intimate, Mykonos Theoxenia is simple yet elegant. From the pink-themed reception to the brick-walled foyers, one can already feel the intimacy that Mykonos Theoxenia invokes. Inspired in the 60's, Mykonos Theoxenia is a gem on its own. Its innovative style and architecture carefully integrated the local stone and craftsmanship while preserving the traditional Cycladic architecture. The Cycladic culture was known for its schematic idols carved out of white marbles centuries ago.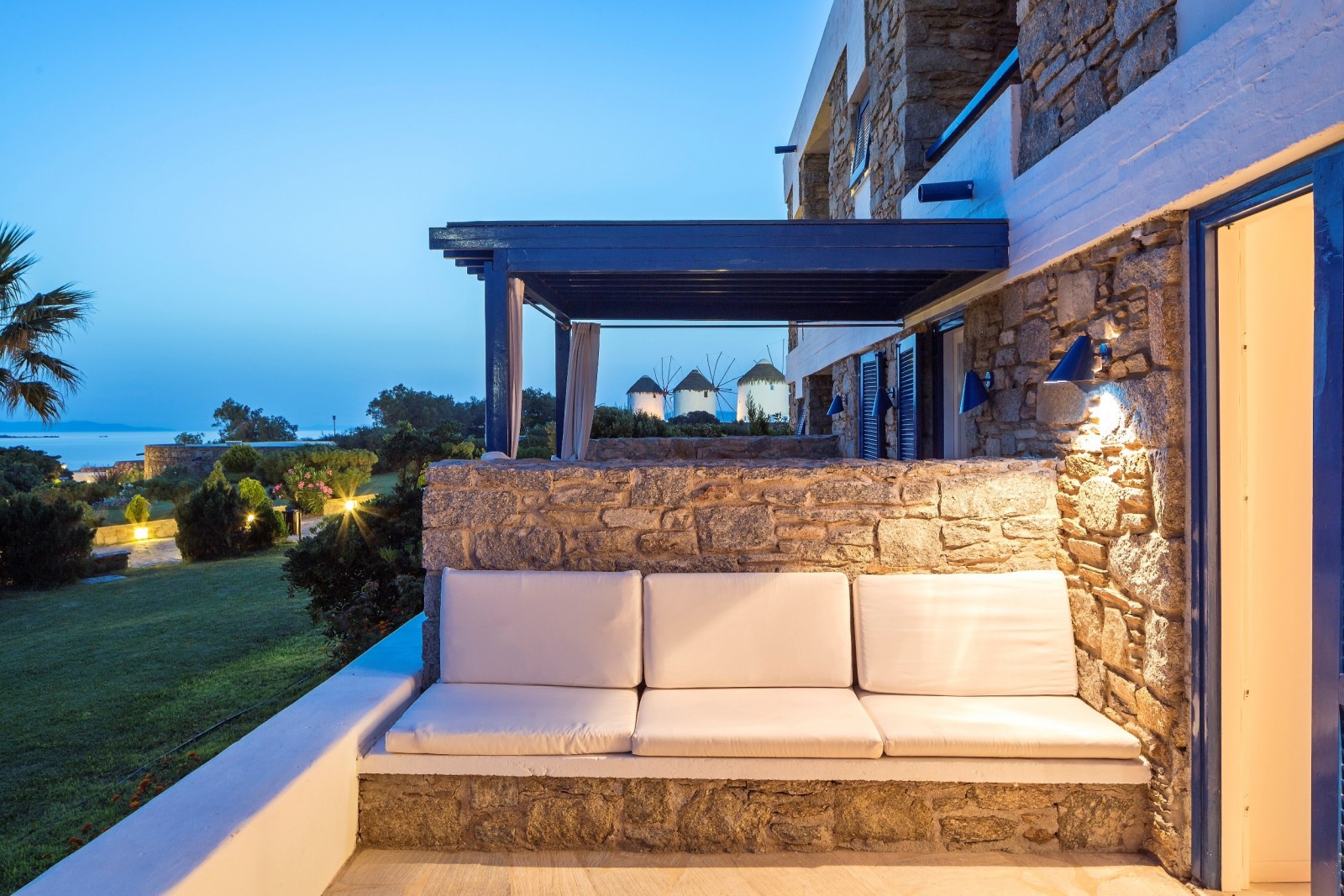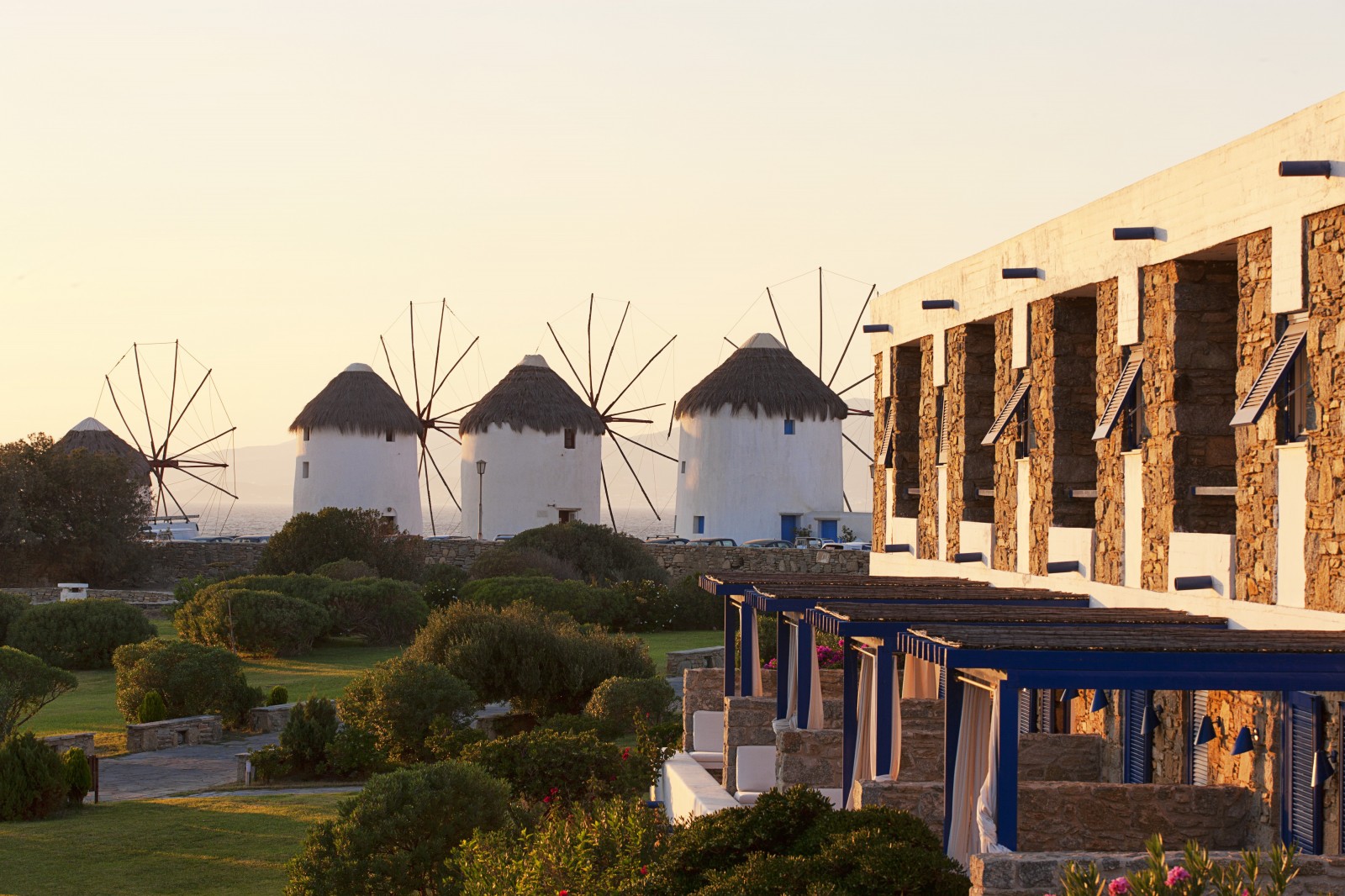 Restored to its current state, it combines the grandeur of the past while exuding the charms of today while integrating modern conveniences in all of its 52 stylish rooms. Decorated with carefully selected fabrics exuding the 60's elegant design, the rooms have wooden floors; cozy bathrooms bath rooms with bathtub and/or shower with Jacuzzi, spacious balconies offering magnificent Aegean Sea views as well as pergolas. One can dine on the balcony while soaking in the view in the morning or at night.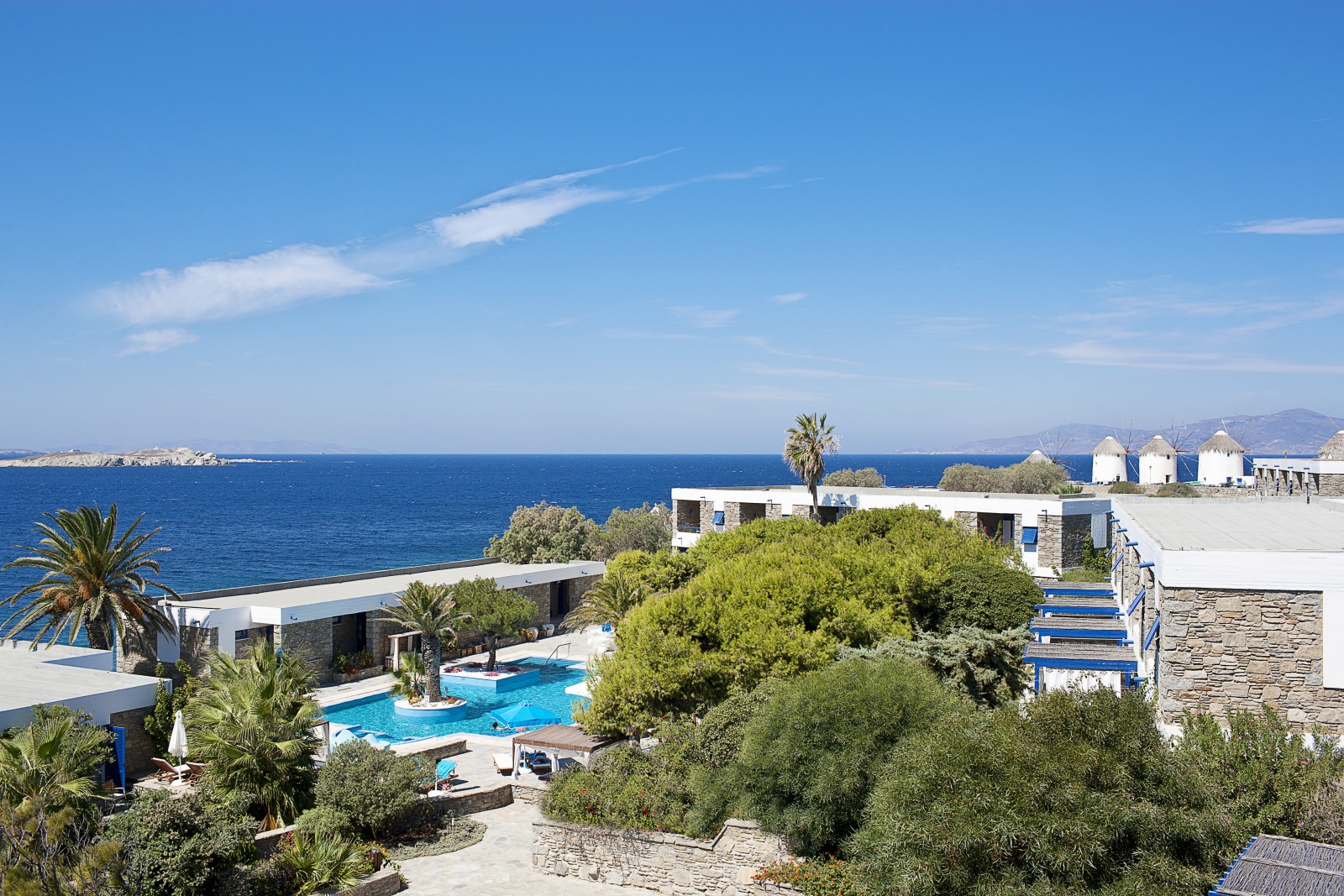 Facing the Aegean Sea, guests can never get enough of the breathtaking sea view. But while the hotel enjoys seafront view; it is also surrounded by landscaped gardens. Flowers dance in the fresh breeze coming from the sea as guests relax and forget the worries of the day. Or even tomorrow's stresses. Staying at Mykonos Theoxenia is so soothing that it's so easy to forget whatever problem one has. As guests enjoy the intimacy of their bedrooms, fresh air freely blows on their faces sending them into a dreamlike trance. Life is bliss indeed at Mykonos Theoxenia.
A classic double room offers three types of view – garden, sea or seafront decorated in 60's style. It has a balcony, twin bed, and a bathroom. The room is equipped with a mini bar, a safe, air-conditioning, hairdryer, pay T.V, light dimmer, direct dial phone with voice mail, internet access and a mini Hi-Fi stereo system and iPod/iPhone/iPad docks. Elegance, simplicity, and luxury combined. All guests are greeted with a welcome drink, fresh fruits, a bottle of wine, slippers, pool towels, deluxe body, hair care items and cosmetics that will truly impress.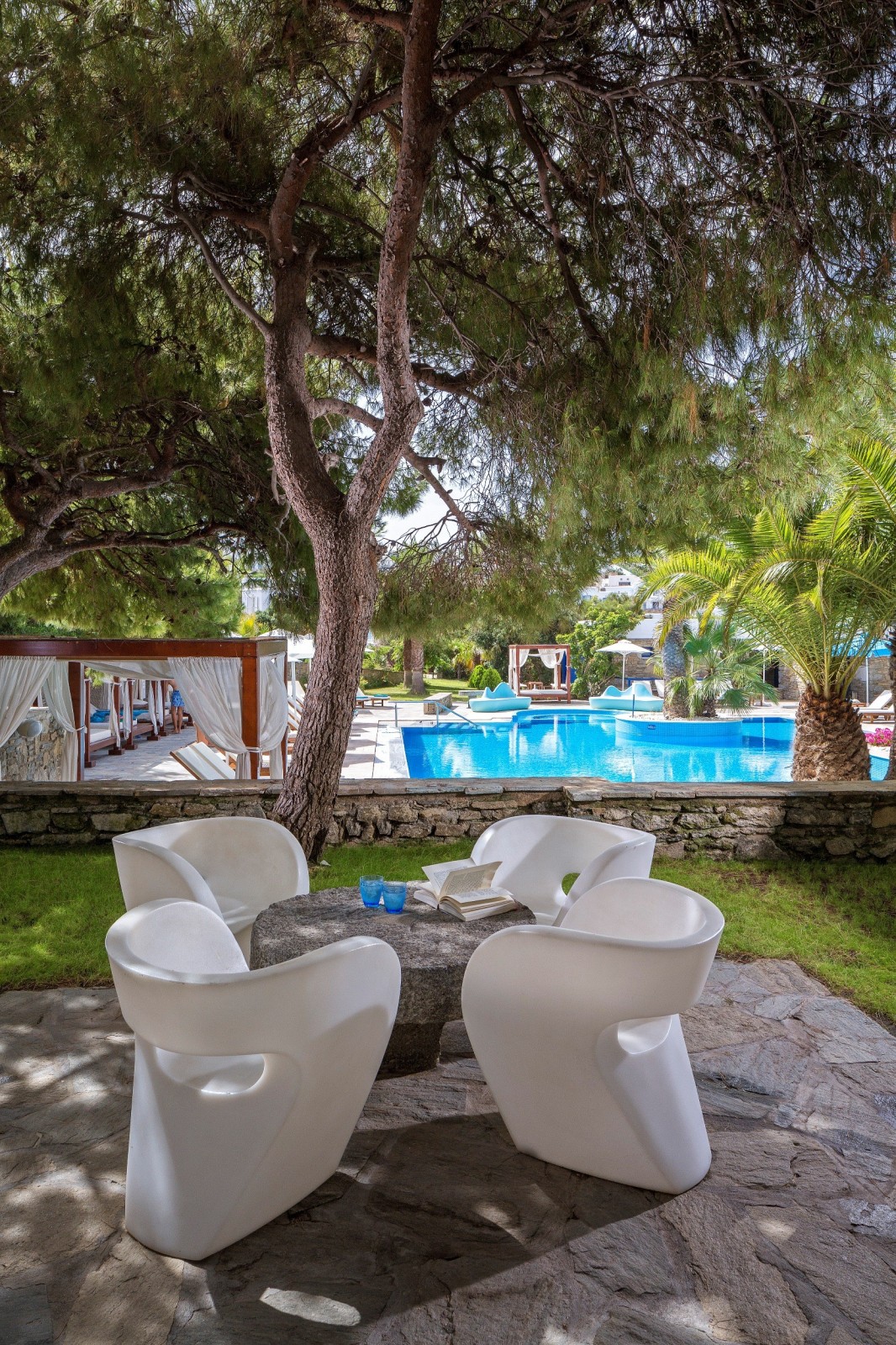 Deluxe rooms feature the same amenities as a classic double room but provide more space and elevated bedroom for a better view. It would be good to note that deluxe seafront rooms also has a separate shower with hydromassage, perfect to make one's holiday even more memorable. Honeymooners who like that extra touch should make a specific request and specially tailored rooms can be made available. Guests staying at deluxe rooms also receive an international newspaper copy as well as a small hotel memento upon departure on top of the standard amenities.
Even more spacious are the junior suites with double king size bed, terrace with a pergola that provides a private outdoor lounge and a bathroom with hydro massage. There are also specially customized honeymoon suites for this category, available upon request. Guests receive flowers on top of the standard welcome pack upon arrival. International newspapers, better quality deluxe body, hair care items and cosmetics, as well as a souvenir gift upon departure, will also be provided.
But the second-best category is the one bedroom suite featuring a separate living room and two bathrooms. One of the bathrooms at the one bedroom suite is equipped with hydro massage. Guests receive a welcome drink, fresh fruit, a bottle of champagne, canapés, sweets, pool towels and flowers upon arrival. While the best accommodation choice is naturally the two-bedroom suite. These have two bedrooms and two separate bathrooms, one of which is equipped with a hydro massage. Guests staying at a two-bedroom suite are also provided with international newspapers and souvenir gift upon leaving.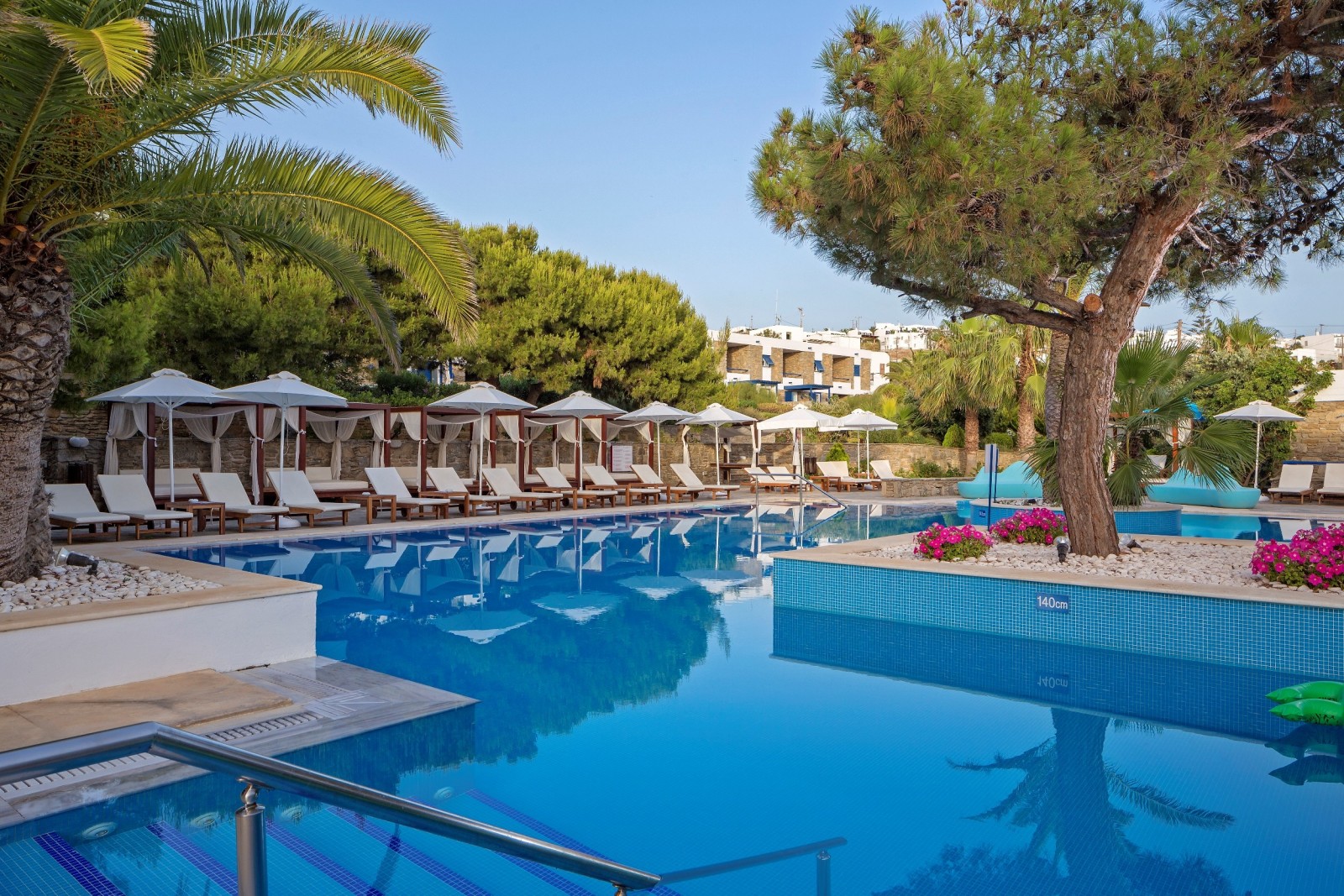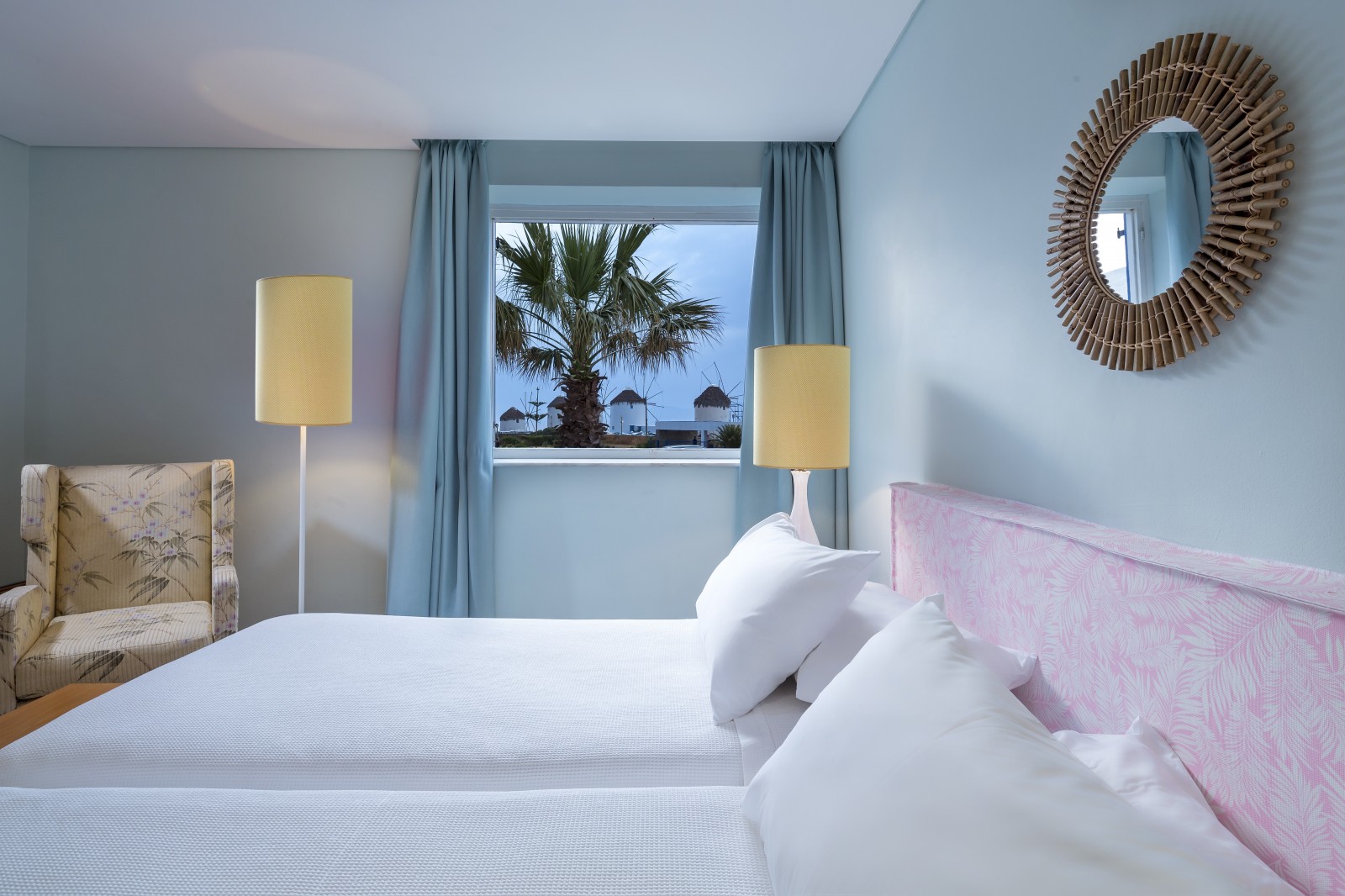 Ideally located in the center of the Mykonos town, guests at Mykonos Theoxenia will never run out of access to nightlife and shopping. Not only that they also get immersed in the Cycladic and Greek culture while fully enjoying the modern conveniences of the hotel. Going on a cultural journey through food is also possible at Mykonos Theoxenia. Guests can delight in scrumptious pasta dishes, mouth-watering grills, crispy salads, snacks and desserts. Guests can drink up while watching the sun. And before they know it they are suddenly thrust into a beautiful kaleidoscope as the gardens and pool are lit up at night, the lights blending with the starry sky above. It truly is a memorable experience in an intimate setting like in Mykonos Theoxenia, one that shouldn't be missed.
Hotel address
mykonostheoxenia.com
84600 Kato Mili, Mykonos – GREECE Tel: +30 22890 22230
info@mykonostheoxenia.com
ΜΗ.ΤΕ1144K014A0132400