Oozing with opulence, from the grand lobby, the luxurious Infinity Deluxe Rooms and Island Villas, to the Turkish-themed hotel exterior, Sueno Hotel Delux Belek is truly one lavish hotel. It epitomizes the luxury of the modern day Antalya while bringing to life the richness of Turkey's history and glorious past. From the minute guests walk in, they know they have entered a whole new world. Not only that, each couple is given a free tablet upon arrival. That is one memorable touch and something that does not often happen elsewhere.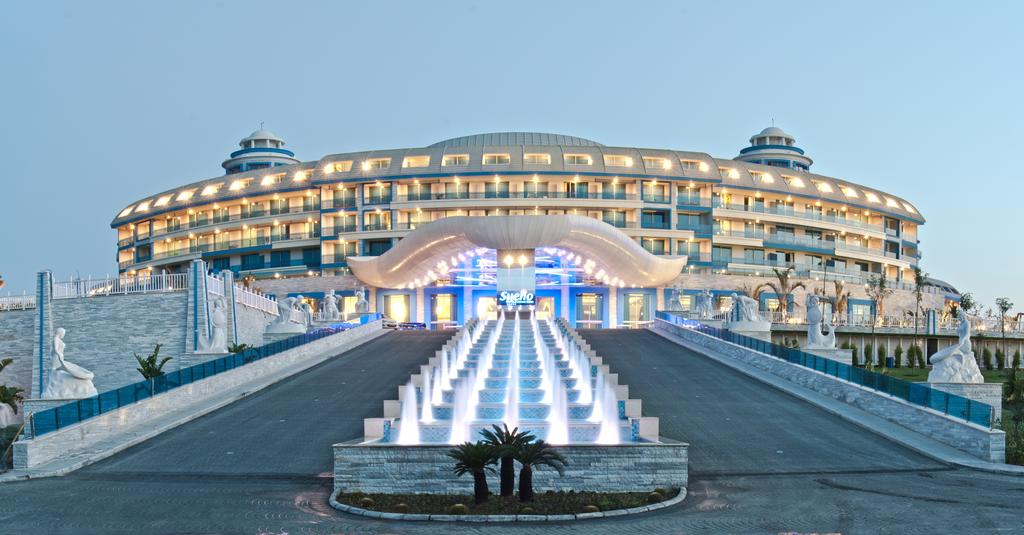 Throughout guests' stay, freebies abound including free ice creams and a range of snack bars near the swimming pool area. With a massive pool, guests might forget the beach and stay by the inviting pool all day. There are lots of sun lounges too so you won't miss out on having a tan. Although the sun beds can be a little uncomfortable so do take that into consideration. The cabanas might be a turnoff as they are a bit tacky. Best to stick to the poolside and sun lounge. Or better yet walk to the beach. Drinks across the hotel are of good standard and there is plenty of choice. There might not be enough Southern comfort though.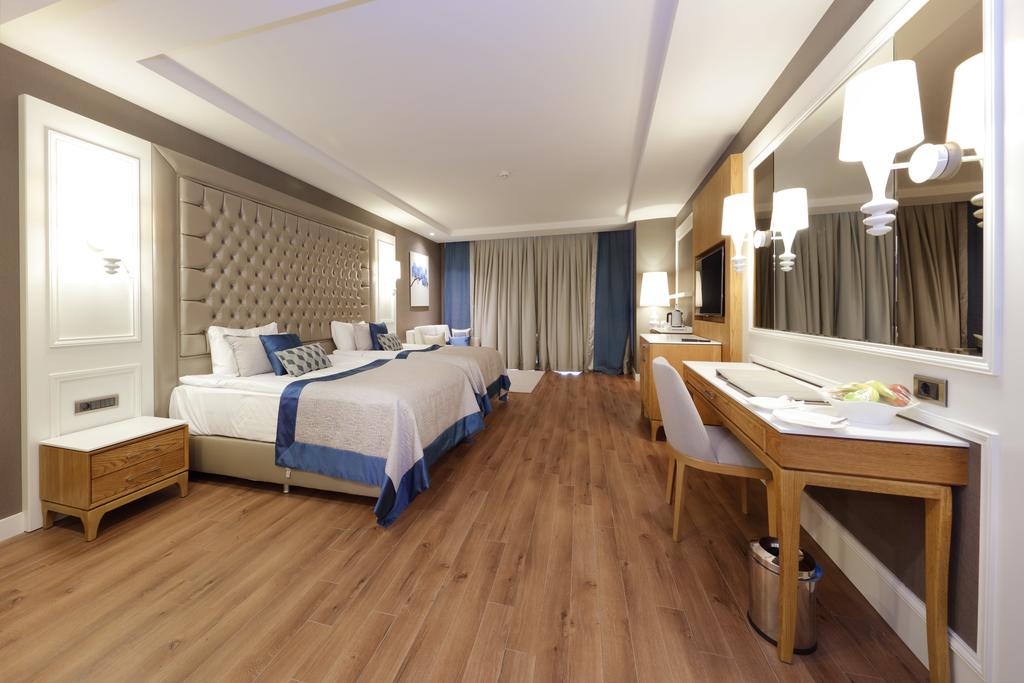 Entertainment options abound. From live bands, amphitheater, discos, swimming, biking, beaching, sun bathing, water sports, etc. there is always something to do at the hotel. Golf enthusiasts can be driven to and from the sister property Sueno Golf for free. The hotel's aqua park is an excellent venue for having a blast. There is a selection of pool and water entertainments for the enjoyment of both the young and old. There are 10 professional waterslides for kids and adults and 8 waterslides specially made for children. Even the really tiny ones have 5 mini infant waterslides to enjoy. Guests can choose from a 12 m double mast waterslide and 128 m Black Hole water slide. If a heart-pumping experience is what you're looking for, the aqua park is sure to provide exactly that.
The spa at Sueno Hotel Delux Belek is beyond ordinary. Spanning across 5,325 sqm, the SPA center has 6 hamams (Turkish bath), 6 saunas, 5 steam rooms, 25 treatment rooms and 2 VIP sections. It covers two stories and is poised to offer the best relaxing treatment there is in Turkey. Equipped with state of the art facilities coupled with stellar service provided by professional staff, guests are sure to come out renewed, rejuvenated and restored. The Spa is also equipped with recreation rooms with water bed, hot pools, mud bath, Vine Room, Salt Room, Russian Sauna, Adventure Showers, Chaff Room as well as Snow and Sand rooms providing otherworldly recreation experiences.
All rooms, including standard rooms at Sueno Hotels Deluxe Belek are not like 'standard' rooms in other hotels. Offering 45sqm space, the décor was carefully selected. There is a clothing or cabin closet and a spacious en-suite bathroom. Guests can choose between land/garden view or sea view. But if you really want to enjoy the best view go for rear rooms overlooking the massive swimming pool, or front rooms overlooking the main hotel entrance. But all rooms are tastefully appointed anyway.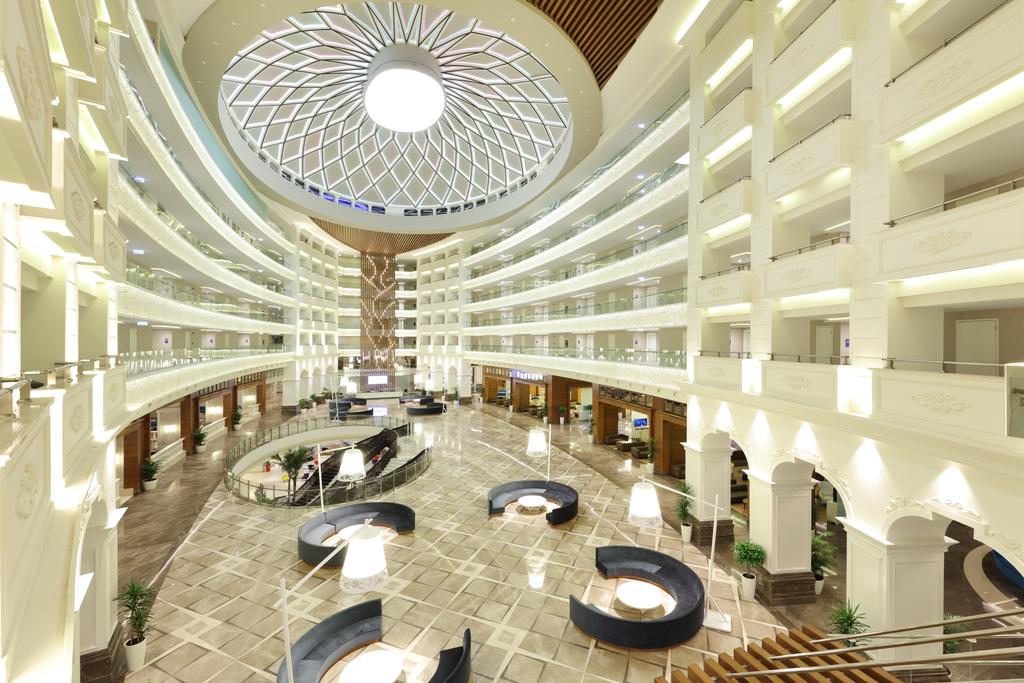 Standard rooms feature a double bed and 1 folding couch. There is also enough space for a baby bed just in case it comes handy. The mini bars in the rooms are freshly stocked every day. There is central heating and cooling system, LCD TV, electronics case, telephone, hot drink set, pillow menu, hair dryer, bathrobe/slipper (extra for kids) and wireless Internet connection are provided.
The Infinity Deluxe Rooms, the signature rooms are at the focal point of the hotel. They provide 45 sqm space with full sea view, mostly bathed in blue reflecting the adjoining infinity pool. Deluxe rooms have a wider balcony space and a 23 sqm private swimming pool. Swimming in the pool allows guests to watch the entire facility with a bird's-eye view. A high quality hot drink set, wider sofa set, iron equipment and intimate bathroom materials are just some of the perks that go along with staying at deluxe rooms.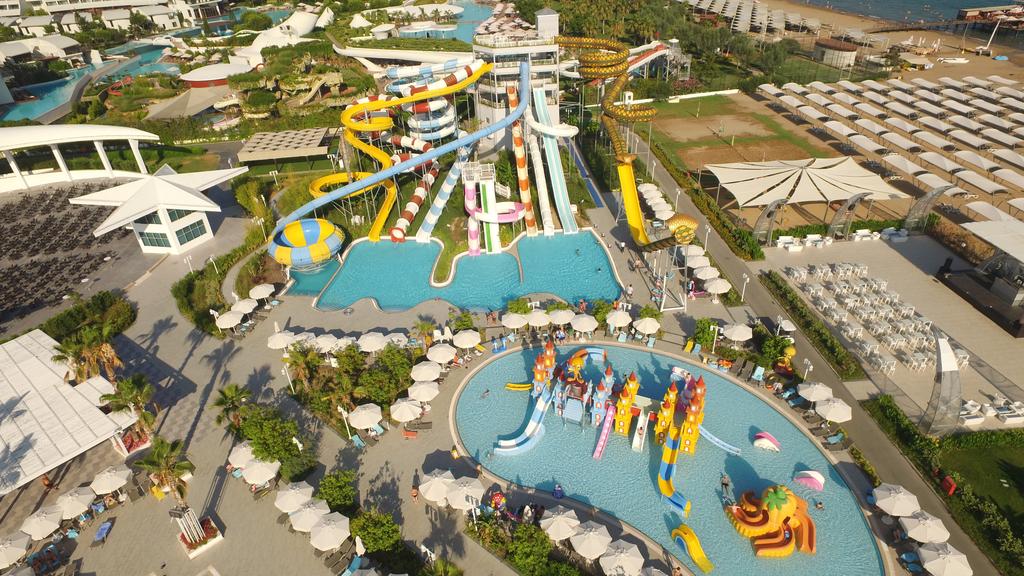 Dining at any of the restaurants can truly add to a thoroughly enjoyable stay. The main restaurant is an enormous hall covering 3000 sqm. It is located on the east front of the hotel. Divided into 5 halls, each hall offers different cuisines allowing guests to enjoy different tastes. It provides guests the opportunity savor different flavors from all over the world. With a 700-pax capacity outdoors and 1,100 seating capacity overall, the restaurant is truly one massive outlet. The food is lavish, one you would call 'a feast for the gods'.
Guests staying at Sueno Deluxe can enjoy special evenings by making special arrangements with the a la carte restaurants. Options include special nights in the four indoor restaurants – Mexican, Italian, Turkish and Asian style Teppanyaki. These are served on certain days of the week so guests have a variety. Guests can also benefit from the fish and barbeque restaurants enjoying open-air setups. Honeymooning couples or those seeking intimacy and privacy would surely benefit from these special arrangements.
The bar at the end of the pier can also be an exciting venue for a drink or two. Watch the sun set over the horizon while drinking your favorite concoction or sipping an aromatic cup of coffee. Wide and spacious, the pier has a host of sun beds and comfy sofas to relax on. A lovely walk at dawn with the one you love should definitely be in order. Otherwise simply relax in the privacy and comfort of your balcony. Whatever you decide you know you're in the right place to be. With plenty of entertainment options, dining outlets, comfortable and plush rooms surrounded by stunning scenery, Sueno Hotels Delux Belek is truly a one-stop luxurious entertainment hotel not just in Antalya but also in Turkey.