Sprawled across a 220-hectare private island, fringed by white sand beaches and crystal clear waters teeming with marine life, Sainte Anne Island Seychelles is poised to be the perfect choice for honeymooning couples. A villa-only resort with 87 private accommodations, 29 of which have private pools, Sainte Anne Island Seychelles truly offers the ultimate combination of luxury and privacy, newlyweds every newly weds need.
[mks_pullquote align="left" width="300″ size="24″ bg_color="#0066bf" txt_color="#ffffff"]With some of the villas enjoying private pools, couples have all the swimming opportunities they can have in the privacy of their own villas[/mks_pullquote]
Some of the villas are set right on the beach so honeymooning couples can easily go in and out of the water at their convenience. With some of the villas enjoying private pools, couples have all the swimming opportunities they can have in the privacy of their own villas. There is also a lounging area for some tanning sessions for the couples. An outside shower adds to the romantic ambience of the villa. Rooms are vast and are equipped with modern amenities including TV, Wi-Fi, a Fan, air-conditioning, tea / coffee station, mini-bar, a bath and shower, sport loo, and a closet area with lockable safe.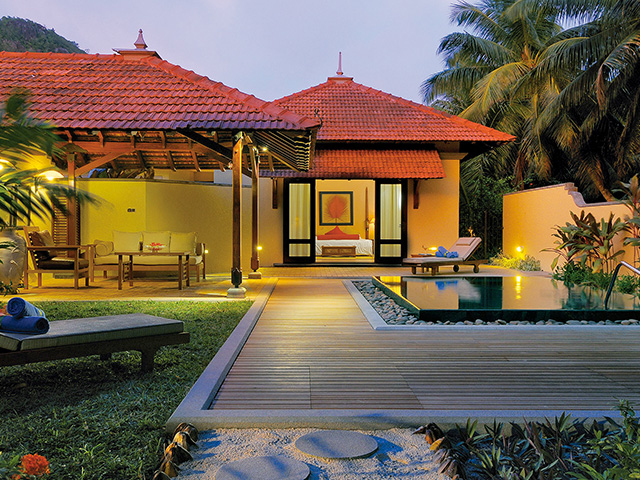 But on top of the much-needed privacy that Saint Anne Island Seychelles provides, what sets it apart is that Saint Anne is a favorite nesting ground for sea turtles. Only a stone's throw away from the main island of Mahé, Saint Anne shares the same waters of the biggest Marine Parks in the world. Between October and January each year, an average of three turtles lay their eggs on one of the six beaches or creeks that form the shores of Sainte Anne. Most of them are hawksbill turtles but some green sea turtles may also be spotted occasionally. Two months later these eggs will hatch and a privileged few will have the opportunity to witness the miracle of life. Baby turtles would awkwardly make their way towards the ocean for the first time in their tiny feet. Watching them is truly is a delightful experience.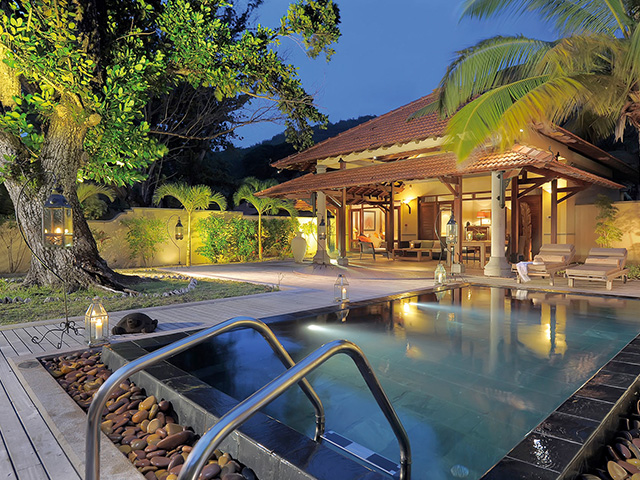 Saint Anne Island Seychelles is fully committed to the preservation and protection of these adorable creatures and is collaborating with Sainte Anne's marine park authorities. Each birth on the island is duly reported and turtles are regularly monitored and weighed. Guests are encouraged to take part and are fully informed. All turtle nests on the beach are clearly marked. At night, lights are switched off on the beach to avoid disturbing the nests and while the eggs are hatching. Guests are also informed through letters placed in rooms about the conduct they should adopt towards turtles. As a result there has been a noticeable increase in the number of turtles returning to the shores of Saint Anne Seychelles Island. Big thanks to the resort's commitment to the protection of the ecosystem and the guests' continued support and participation. This shows that Saint Anne Island Seychelles is not only your regular five-star resort but it is also an environment-friendly resort that is worth patronizing and applauding.
Being an island, the resort offers an optional all-inclusive stay. This entails all guest meals and drinks are included from the moment they arrive on the island until they leave. But do note, not all is included as some important details are omitted. The mini bars are not included in the all-inclusive stay. Guests have to go to a main bar all the time for drinks. If it's late at night and all you want is a relaxing drink, this can be pretty cumbersome, as you need to change and go out. Surprisingly the bottled water is also not included. Guests also need to request from a bar. If you flew in from miles away and you're end expecting to not have to worry about what to drink, this can get pretty annoying. This is something you do not expect from a 5-star resort. Coffee is not included either except for the regular. Cappuccino or latte are not included either. Understandably some of the house wines and drinks are not included in the package.
Not all villas offer good views. Featuring a jungle-like feel with towering palm trees canopying over the resort, guests might end up with a villa far from the sea. And all they will see are trees. If you want to make sure you get a good view, try room numbers 200-300. They are also closer to the sea. All rooms have free Wi-Fi, which can be a big plus. Some of the accommodations are adapted to families, with a majority of the villas providing two beds. There is a dedicated Kids Club that offers exciting activities oriented towards the discovery of nature. Not only is this guaranteed to be fun but also educational and informative. There are also a host of sports and leisure facilities that can be experienced by the whole family.
So whether it's a honeymooning couple, traveling executives or families, Saint Anne Island Seychelles is one tropical paradise worth staying in for a day or two. Who knows maybe you can become an environmentalist or conservationist too.