Room Mate Grace Hotel is a trendy hotel right at the heart of the Big Apple. It's casual yet cozy, basic but not boring and is intimate. It's perfect for those exploring the busy nooks and crannies of New York and wanting to have a comfortable place to lay their head. Room Mate Grace Hotel is a charming 3 star property and features 139 rooms spread between 16 Floors. It has a swimming pool with a swim-up bar, a sauna, steam room, meeting rooms and restaurant. What's more Room Mate Grace provides free Internet access to all hotel guests ensuring that every guest stays connected throughout their stay.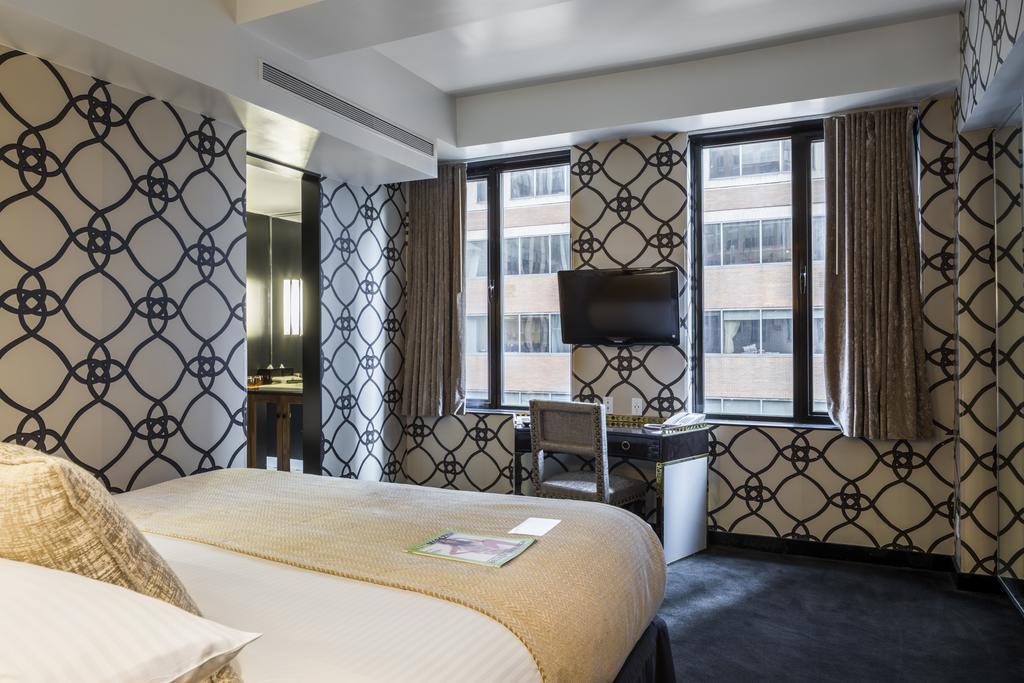 Located in the Theatre District, Room Mate Grace provides easy access to Broadway and Times Square. It is stone's throw away from every conceivable tourist spot in Manhattan. Guests are centrally and strategically located, right at the hub of Midtown, with easy access to everything including restaurants, theaters, and attractions. Shopping centers also abound. Not too far away is the Central Park and a few minutes away is the iconic Statue of Liberty. Wherever they turn guests at Room Mate Grace are guaranteed they are in the most ideal location in Manhattan. From Bryant Park to Rockefeller Center, the hotel is close to everything. Guests can walk to the Fifth Avenue shopping area or watch a Broadway show. Visitors will find there is no shortage of fun and excitement when staying in this bustling center of NYC.
Room Mate Grace is a chic hotel, decorated in contemporary style, offering a host of amenities. After an arduous but equally enjoyable day sightseeing, guests can take advantage of the indoor pool with a swim-up bar. Or they can let their bodies rejuvenate at the sauna and steam room. What's a better way of relaxing your muscles than lying down on the wooden bench inside the sauna? Or letting off steam inside the steam room. Let your mind and body relax and forget about the worries of this world. Relaxation is so simple and easy. With a very welcoming and warm atmosphere, it's not impossible to luxuriate and rejuvenate at Room Mate Grace.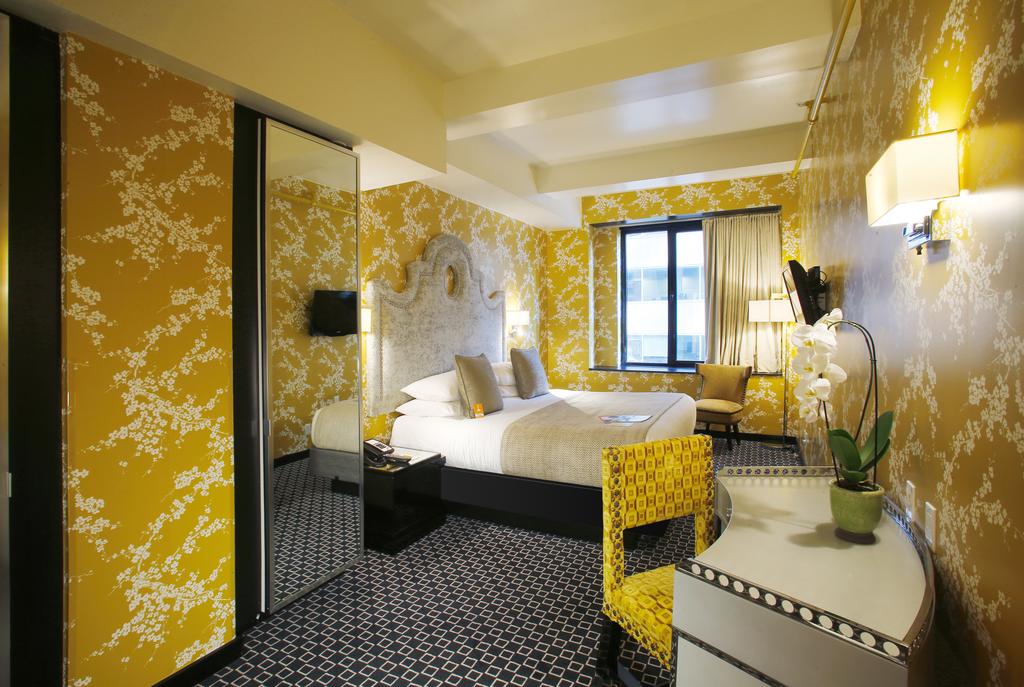 As its number one advantage is its location, Room Mate Grace is close to Times Square and other major attractions in New York. It offers continental breakfast until 12:00 p.m., found almost nowhere else. Featuring 139 rooms, the rooms at Room Mate Grace Hotel are bathed in contemporary design and charm. The hotel offers standard rooming options similar to other hotels. But they do have an added option and more unique, offering with as many as four beds to a room. With the four-bed option, guests sleep in bunk beds, which are great for backpackers and/or those traveling on a shoestring budget. Each room is equipped with basic amenities including free Wi-Fi, Egyptian cotton bedding, mini-fridge, and laundry service. Guests even enjoy paid services such as childcare and massage. Rooms can be very tiny though although reasonably priced compared to other hotels in New York.
But the price seems to be proportionate to the sizes of the rooms also. Everything about the hotel is small – the front desk, the lobby, the pool area and above all the rooms. Not that you spend that much time at the hotel, but this truly is just a place to lay your head type of place. Check in can seem very disorganized and takes a little longer than expected. Once upstairs, guests find the hallways narrow and the lighting needing a lot of improvement. It can feel like being in a scene from an American Horror Story Hotel film. Once inside the room, guests might find the rooms pitch dark. Be sure to slot in the key card in the card reader to turn on the lights.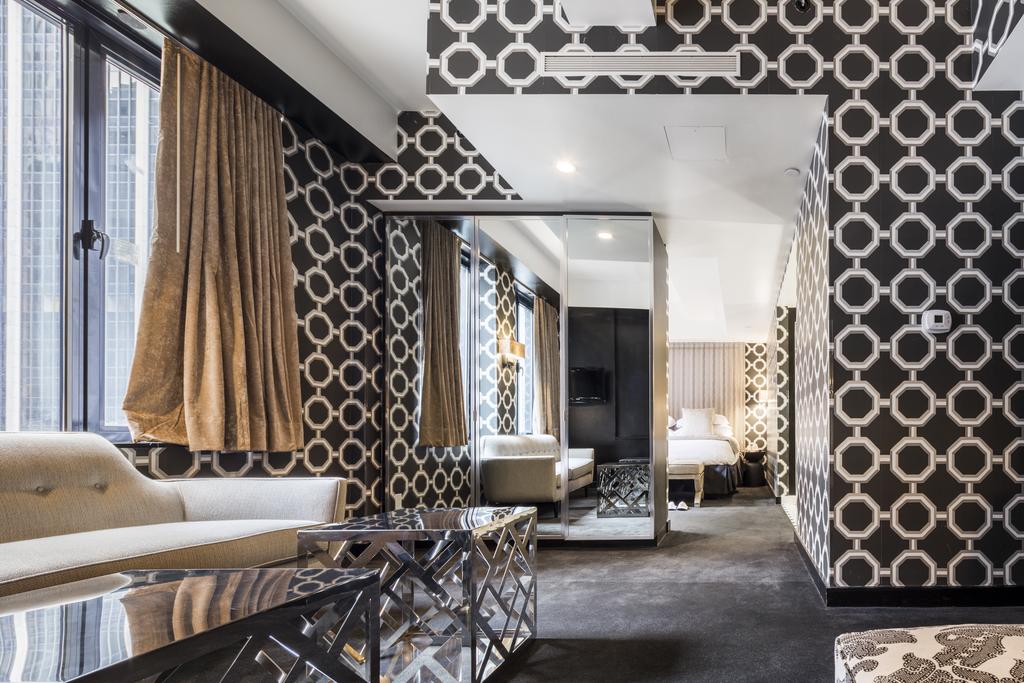 The king size bed in the room can seem to have been forced to the side of the wall, elevated on a platform. If you don't get the side of the bed that actually allows you to touch the floor, you will have to jump over your partner to get in and out of the bed. This can prove to be pretty cumbersome if not annoying. There is no nightstand in the rooms and the phone is on the floor. This is something that might be out of the box but definitely something not fun especially if you have short arms. As the room is so small, guests can feel really cramped, feeling packed like sardines.
There is also one more very important thing to remember especially for those traveling with a friend or friends. There is no door on the shower so there is zero privacy. This is okay for honeymooning couples but if you're not traveling with your better half, this can be a huge problem if not very awkward. Your traveling companion can watch you take a shower throughout. Not really comfortable. On the other hand Room Mate Grace Hotel can really seem very quiet and again, very clean. There is no bar or place to gather – just sleep so you know you're guaranteed of a peaceful sleep unless of course the noise from the traffic below does not disturb you. Room Mate Grace is truly just a place for you to lay your head.