If you love adventure trips and dream to sleep in the middle of the nature, Treehotel should be your next destination. The main concept of this hotel is luxury tree huts in the tall pine forest. The tree rooms are suspended 4-6 metres above the ground and are accessible by ramp, bridge, or electric stairs.
Each room is unique: architecture, furniture, lighting and fabrics are custom designed. The rooms vary in size between 15-30 m², with the largest rooms accommodating up to four people.
[box type="info"]Because of minimal ecological footprint and ecological values the Treehotel, Sweden receive ExpensivePlaces Ecological Engagement Award 2014[/box]
My favorite is the Mirrorcube, an exciting hide-out among the trees, camouflaged by mirrored walls that reflect their surroundings. The dimensions are 4x4x4 meters and six windows provide a stunning panoramic view. The base consists of an aluminum frame around the tree trunk and the walls are covered with reflective glass. The color is invisible to humans, so you must come close to see it.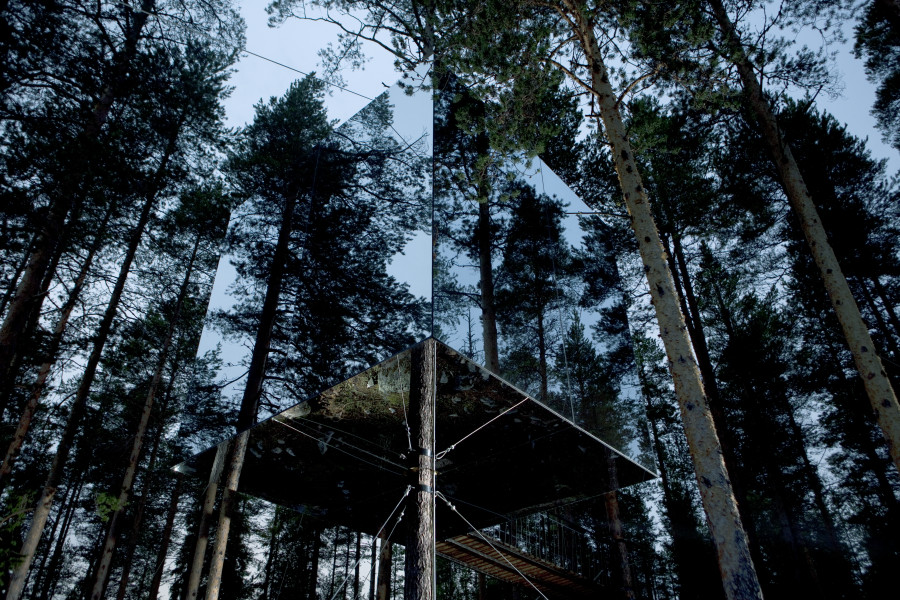 Beside Mirrorcube, there are five more rooms:
THE BIRD'S NEST – the exterior of it is a giant bird's nest as the interior however, is familiar and exclusive.
THE CABIN – the location of this tree room was chosen based on the idea of creating a platform high up on the hillside overlooking the Luleå river valley
THE BLUE CONE – is a traditional wooden structure with three foundations in the ground, to give a sense of height and lightness, but also to create stability
THE UFO – shaped like a UFO, it is cast in durable composite materials as the interior gives the room a modern and comfortable feel.
DRAGONFLY – the biggest room of the Treehotel, has the exterior made out of sheet metal that will eventually turn rust-brown and blend in even further with the pine-tree forest.
[button link="http://www.hotelscombined.com/Hotel/Treehotel.htm?a_aid=63056″ color="red" newwindow="yes" rel="nofollow"] Click here to Book Now![/button]
Rates
starting with
$700/night
for
The Cabin
to
$1,073/night
for
Dragon fly
.
©Photo Credit: Peter Lundstrom, WDO – www.treehotel.se
Treehotel Contact:
Treehotel/Brittas Pensionat
Edeforsväg 2 A
960 24 Harads
Sweden
E-mail: booking@treehotel.se
Telephone: +46 (0)928-10300