Paris, often thought of as the world's most romantic city, has just been deemed the most expensive city in the world to order a club sandwich.
The Club Sandwich Index 'average Club Sandwich price' is the average price of 30 Club Sandwiches as sold in 30 hotels in the city of each country measured. The prices were taken from 10 Five Star, 10 Four Star, and 10 Three Star hotels from each city. In total, 1,000 prices of a club sandwich were measured across 1,000 hotels, in 26 countries. European prices were converted to $USD, exchange rate correct as of April 25, 2012.
Club Sandwich Index (CSI) of Top Cities Around the World

(ranked from most expensive to least expensive and rounded to the nearest dollar.)

Country/City
Average Club Sandwich Price ($)
France – Paris
$33
Switzerland – Geneva
$32
Norway – Oslo
$30
Japan – Tokyo
$28
Italy – Rome
$24
Finland – Helsinki
$23
Sweden – Stockholm
$22
Australia – Canberra
$20
Denmark – Copenhagen
$19
UK – London
$19
Hong Kong
$18
South Korea – Seoul
$18
Germany – Berlin
$18
Brazil – Brasilia
$18
USA – New York City
$17
Holland – Amsterdam
$16
Russia – Moscow
$16
Spain – Madrid
$16
Canada – Toronto
$16
Ireland – Dublin
$16
Malaysia – Singapore
$15
China – Beijing
$14
Colombia – Bogota
$14
Argentina – Buenos Aires
$11
Mexico – Mexico City
$10
India – New Delhi
$10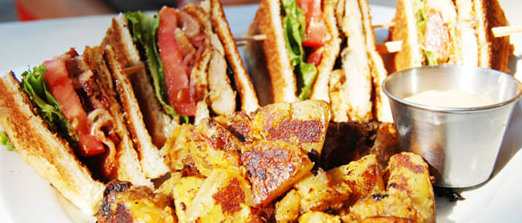 But if $33 seems like too much to shell out for lunch, stick to the 10 most popular United States destinations where the most expensive club sandwich can be found in New York City, for an average price of nearly $17.
Top U.S. Domestic Destinations for U.S. Citizens and Those Cities' Average Club Sandwich Price

(ranked from most expensive to least expensive, and rounded to the nearest dollar.)

HPI

 Rank

City
State
Club Sandwich

Average Price

2
New York City
N.Y.
$17
3
Orlando
Fla.
$15
7
San Francisco
Calif.
$14
8
Washington
D.C.
$14
1
Las Vegas
Nev.
$13
4
Chicago
Ill.
$12
9
Houston
Texas
$12
10
New Orleans
La.
$12*
6
Los Angeles
Calif.
$11
5
San Diego
Calif.
$10
Within the U.S., it is no surprise that New York City is home to the most expensive club sandwich prices due to the city's reputation for an expensive cost of living. Although affordable lunch can be found in San Diego, visitors can assume while traveling in the U.S. lunch will set them back around an average of $12 – $14. An interesting regional difference travelers should note is that many restaurants in New Orleans do not serve club sandwiches, but rather the Big Easy favorite, Po' Boy, which can consist of a variety of seafood or meats and condiments served on French bread.
In London, the top overseas destination for Americans, a club costs an average of $19, making the city ninth on the CSI. The least expensive cities for a club sandwich from all 30 global cities surveyed are New Delhi, India and Mexico City, Mexico, with the average price coming in at just $10.
The study was made by Hotels.com