Your one year old home cinema projector is not what you need now… Wolf Cinema launch REF-700 and REF-1000 projectors with a lot of features and it delivering some of the finest high-fidelity 3D images yet possible, and on screens up to 18 feet in width.
For only $75K you can really impress your friends with your good taste in hi-tech.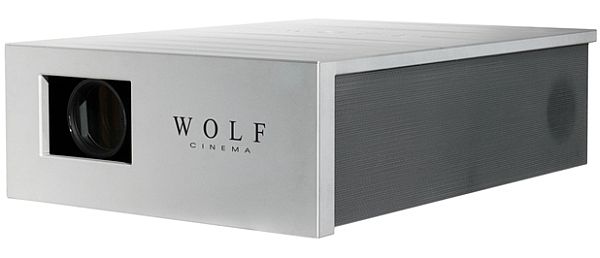 For more information please read the Wolf Cinema press release below:
Wolf Cinema – a leading manufacturer of ultra-high-performance home cinema projectors – announced today the first shipments in the company's all-new Reference Series of 2D/3D theater projectors. The REF-700 and REF-1000 projectors are powerful new additions to the Wolf Cinema line, delivering some of the finest high-fidelity 3D images yet possible, and on screens up to 18 feet in width. Powered by modular Cermax® xenon arc lamps, these remarkable three-chip DLP® light engines boast a wide variety of advanced custom installation options including the choice of 6 high-contrast VariScope™ primary lens packages, advanced Wolf Cinema video processing with custom film algorithms, optional cinema "Triple-Flash" 3D imaging technologies and custom 3D glasses. All are delivered with the company's proven cooling infrastructure for extended projector and lamp life. With our comprehensive i-Box™ design, high velocity air flow is directed throughout the chassis and over all mission-critical system components. The net result is that, for over four years now we've never experienced a total Reference Series projector failure, in field. These two design attributes – operational excellence and imaging fidelity – are embodied in every Wolf Cinema Reference projector, and our two latest models proudly carry forth that tradition. Not only is the picture absolutely stellar from your favorite 2D and 3D content, but these flagship projectors will keep working and delivering their home theater excellence for years to come."WOLF CINEMA page 2

The Wolf Cinema REF-700 and REF-1000 projectors boast the company's precision VariScope™ memory lens system, whereby a wide variety of TV and film content can be viewed without the need for an external anamorphic lens. This proven technique accesses a wide range of popular aspect ratios [from 16/9 all the way up to CinemaScope® 2.35/2.40:1] and stores them in memory for quick access via the projector's IR remote or RS-232 control scheme, and instantly recalled by any of today's leading home automation systems The Reference series of projectors can be ordered as either 2D-only projectors, or configured as full 3D HD imaging systems, with the 3D editions boasting the very latest in "Triple Flash" imaging technologies for ultra-smooth, ghost-free performance. A near-field 3D emitter and four pairs of custom 3D glasses are included with each REF 3D edition. Additional 3D glasses and ceiling mount kits are also available as key system options.

Wolf Cinema projectors are available only through a select network of highly-qualified audio/video specialists around the world. The new Wolf Cinema REF-700 and REF-1000 are shipping now, inclusive of standard selection primary optics, at starting MSRP retail prices of $75,000. Please visit our website, www.wolfcinema.com for additional information.