How much are you willing to pay for a stainless steel bike? If $5,495 won't "break" your bank account then take a look at this DeLorean Bicycle.
There are 3 models to choose from: DeLorean Anyday, DeLorean Speed and DeLorean Cruise.
The idea for The DeLorean Bicycle began much like the DeLorean vehicle itself – a goal to build a vehicle of style and substance with innovative features that would represent a value for both the passionate and casual cyclists alike.
A conversation started between good friends Stephen Wynne (Delorean Motor Company) and Marc Moore (Entrepreneur, Passionate Cyclist & Former Delorean Owner) about building possibly building a bicycle that could bear the DeLorean name, but do so without giving up anything to best bicycle manufacturers of today. Exploration of cycle design had begun. The material of the frame was selected in a more obvious fashion – the only choice was stainless steel. This was absolutley essential, as it maintained the DeLorean connection to be valid and substantial.
This proved to be an excellent choice of materials. Stainless steel for bicycle construction, while fairly new, has some fantastic benefits for cyclists. Bicycle ride quality is made up of a number of factors, some of the more important aspects being:
Smoothness – Complete road isolation while still maintaining a connected feeling to the terrain.
Stiffness – Allowing full power to go into the pedals, and not lost to flexing of the frame.
Durability – Corrosion is absolutley minimized, a very high fatigue life, low impact resistance, and ease of repair.
Weight – Not exactly tied to ride quality, but more affecting the overall ride feel and performance.
The stainless steel used in the DeLorean Bicycle is designed to excel in all areas of ride quality. The Italian-made Columbus XCR tubing is well known to be some of the most supreme stainless steel used for bicycle frame manufacturing today.
The DeLorean Bicycle gives a ride combined with a style that makes it equally at home next to your DeLorean during the car show as it would the weekly road race for the city limit signs. Even if you have never owned a DeLorean, the name and style are iconic and unmistakeable.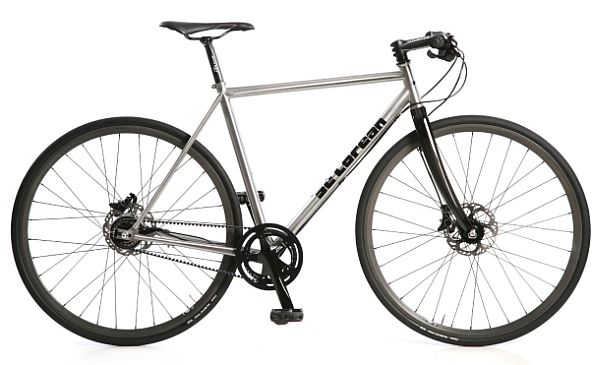 A true all around machine, the DeLorean Anyday model has a super efficient & clean running belt drive transmission, making it easier to climb bigger hills or go faster on the flats with the 11-speed internally geared hub that comes as standard equipment.

To keep things under control, the Anyday has front & rear hydraulic disc brakes; wet or dry, stopping power is always more than sufficient. To help you be seen in low light or at night, the wheels are coated with a new luminescent coating that under regular lighting looks dark, but once lights are shined on them they almost appear to "turn on." This makes that early morning or late evening ride much safer. An Italian made gel saddle increases your comfort, as well as a full carbon fork providing precise steering response with room to even install larger treaded tires for dirt roads or even path riding.

Wherever or however you want to ride, the DeLorean Anyday delivers the style and innovation that is Delorean with hand-made Italian craftmanship that can take you anywhere.
DeLorean Anyday specs
Frame: Columbus HINOXtube Trafitubi XCr Seamless Triple-Butted Patented Stainless Steel Tubes Made in Italy. Designed and Artisan Built by Sarto Antonio Racing Bicycles in Pianiga, Italy.
Fork: 3T Disc-Ready Carbon Fork
Headset: FSA Integrated
Drivetrain: Shimano Alfine 11-Speed Internal Shifting [Rear Hub and Shifter]; Gates Carbon Drive Center Trac Belt and Sprockets.
Cranks: Shimano Alfine
Brakes: Shimano Alfine Hydraulic Disc [Front and Rear]
Wheels: Velocity Halo 700c 32-Spoke Reflective Rims; Velocity Front Hub; Sapim Spokes; Wheelset Handbuilt in Georgia.
Tires: Vittoria Rubino Pro Folding [28mm]
Grips: Fizik Lock-On
Handlebar: Ritchey Comp [Bead Blasted]
Stem: Ritchey WCS [Bead Blasted]
Saddle: Selle Royale Respiro
Seatpost: Ritchey WCS One Bolt